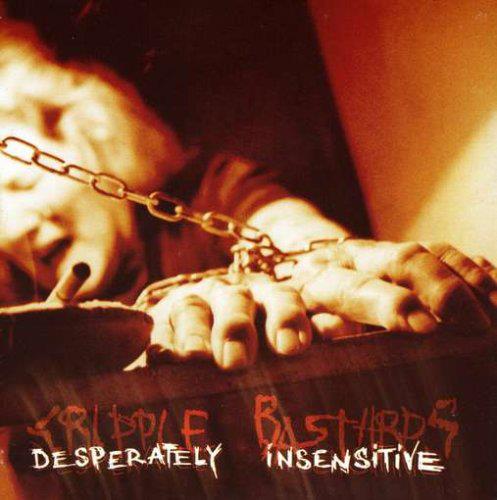 release date:
March 01, 2003
share:
LINE-UP:


Giulio the Bastard - vocals
Schintu the Wretched - bass
Der Kommissar - guitar
Al Mazzotti - drums


recorded in April 2002 @ "Nadir" studios, Genova.
Sound engineer : Tommy Talamanca

> CD version on Necropolis DeathVomit, DVR 023, 2000 (?) made for the US marketing, 1200-1500 (?) printed in Europe by Century Media for the EU marketing. The european edition has the label's logo a bit larger (on the back of the inlay-card close to the tracklist) and few more slight variations. LP edition on Deep 6 Records, DeepSix # 53, 2000 (?) copies pressed. Picture disc edition on Massacro Records, MAS#04, 500 copies pressed.

> CD comes in a wonderful packaging that consists of a huge poster bent in many parts, including all lyrics.

> LP has a full-color gatefold cover and a huge poster inside including band members' pics and "2 eyes for 1 eye" art.

CREDITS:

>Nik SStnz - artwork / graphics
>Lorenzo Arioni - tortured grannie photoset

Desperately Insensitive
1. Fear in the squats of the dead
2. When immunities fall
3. Cardboard
4. Intravenous love-drip
5. Odio a prima vista
6. Bomb ABC No Rio
7. The mushroom diarhhoea
8. Rak ne prestaje
9. Get out and bite them
10. Desperately insensitive
11. Me & her in a microcosm of torture
12. Jurisdictions
13. Time of the vultures
14. Idiots think slower
15. I hate her
16. Inside out
17. Being ripped off in 2002
18. Respect or death
19. Partner della convenienza
CB at their 3rd ful-lenght album, the first with the final (current) line-up - which has been together from summer 2000 to now - gaining the status of most "stable" CB line-up ever. This is also the first studio effort with Der Kommissar on guitar, bringing a radical revolution to the peculiar CB sound, changing from the extreme pedal distortion of Alberto the Crippler to a ways cleaner solution, mainly focused on power and definition. Here's how Necropolis Records introduced the album:

"CRIPPLE BASTARDS are known throughout the grinding underground as "Italy's Purest Manifestation of Hate" and one listen to any of their incendiary releases from any point in their over-decade-long career bears this out beyond a shadow of a doubt. With the release of "Desperately Insensitive", the band have truly coalesced their influences as well as their experience into a seamlessly ferocious, utterly overpowering experience. Showcasing their propensity for progressing the Grindcore medium while never slackening their attack, CRIPPLE BASTARDS have pushed themselves far beyond their own precedents. Unceasingly up-tempo, "Desperately Insensitive" processes post-hardcore, brutal Death Metal, fast-core, noise/math-core and of course, the essential ingredient of Grindcore through their own barbaric, trademark sound. Featuring elements of dissonance and angularity that would have sounded out of place on some of their previous recordings, "Desperately Insensitive" stands clearly above not only the band's previous work, but above the work of the vast majority of their peers. Recorded by at Nadir Studios Tommy Talamanca of Italian Metal act SADIST, "Desperately Insensitive" is only made more powerful and aggressive by the clean and crisp sound. Each of the 19 tracks is in-your-face, rude, and undeniable. The savagely ferocious drums provoke the massive wall of spiteful guitars and vicious bass to dizzying heights and depths of extremity and Giulio the Bastard's manic screams assault the listener from all directions, from frantic Japcore screams, to subsonic Death grunts and pissed-off Hardcore bursts. The power and vision of CRIPPLE BASTARDS is irrefutable. The band's anti-politically-correct political lyrics attack everyone, and especially the hypocrisy of the punk/HC scene, no holds barred, brutal spite, made even more vitriolic by Giulio's relentless vocal delivery. In short this album is delivers on all counts, with its stylistically sadistic artwork, caustic lyrics, and of course, its monolithic Grindcore attack".

With no doubt, this record traces a brand new chapter in CB's musical career. The production style is completely different than the analogic line we have been following for ages at Acqualuce Studios, abandoning the wall-of-noise guitar that characterized many earlier works + the hyper-frantic drum approach that was fast-to-the-bone but miles away from the tightness Al Mazzotti brought in. "Desperately insensitive" stands as CB's first attempt to combine the peculiar Grindcore extremism with a kind of intensity/definition we never reached before. Besides the musical analysis, the lyrics are a follow-up to the mood expressed thru "Misantropo a senso unico" getting even more direct, obsessive and psychotic. The basic difference here is the language's choice, which gets back to a majority of tracks in English and just a couple in Italian + Serbian. The artwork consists on the re-elaboration of details from a huge photoset an horror-artist made exclusively for us. A grannie chained into a desolated wharehouse (creating a feel of snuff background), forced to self-infliction of cigarette burns, once more bringing to light that concept of human annihilation and existential decay CB have always played on. A step forward in CB's evolution, creating the roots for a new dimension of uncompromised extremism.
LYRICS

Time will show who has talent
and who's doomed to stagnation.
We drove to the farest lands
to play in the worst squatted dogholes
in the name of an integrity often fading to nonsense
burnt out patience, tolerance
repaid by the umpteenth plain pat on the back.
No appeasement – no cash – no promotion
just the guarantee of being a brick….
to a castle whose foundations have no strength to stand up.

Forced to eat your shit
Resigned to breath morals
Reduced to sleep in your dirt
Stuck miles away from respect

Tipped as a thorn
my anger is like newborn
15 years screwed by this crowd of A-marked trash
A bullet in the head
a flame-thrower in my hands
the only way to abort this increasing mass of living dead

fill our dish with rewarmed tofu & 3 week old bread
being here to bring fun, I'm yer ideal moron
in front of our sight a loser-type mass of scumbags
lobotomized by booze, lost in few rules.

Forced to eat your shit
Resigned to breath morals
Reduced to sleep in your dirt
Stuck miles away from respect

Tipped as a thorn
my anger is like newborn
15 years screwed by this crowd of A-marked trash
A bullet in the head
a flame-thrower in my hands
the only way to abort this increasing mass of living dead

I'm tired of passing over
decay of respect = the mirror of what you hide deep inside
an abyss of mediocrity
a shadow on my sun.
I'm tired of passing over.
and I won't be left behind.

PS: modern hippies on my grey-scale
mutilation of their fucking colours.



A NEW ISSUE IN THE "NEVER MENTIONED" SERIES
(only few statements from this is what GTB actually sings)

Drop by drop you used to sedate me – from a distance
an unconsciously perfect method

those were days when I was dying w/o leaving any trace
in the hands of a WasteDisposalFirm authorized to format my sharpeness..
all the requirements to carry out the biopsy of my shroud

..I had an identity in my tenacity, in holding on to my feelings
in remembering the oldest flashes of light – discussions, glances
and from then on I became your blackboard
let's write "FUCKED" on it
go on, hang it in the closet of a past to be crushed.

Someone else shared an experience of inflicted mutilation
but passively.. and in a few moments.

Attacking immunities to shatter the foundations:
the improvised tacticts of those who live on other people's moods
dancing an eternal tango on the heart –> instead of heels, kitchen knives.

Drop by drop staring at the density mixing with the water
it's the serum that puts every intention of reaction up against the wall.

Let me share in my defeat, humiliate me with details
remind me that at 30 some people have aged better than me
modernize my paranoia – glue me to a mobile phone
where your signs of disheartenment always come too late
deprive me of all grace, hang me to the noose of apathy and inertia
redeem this talent that in your barreness you were never able to cultivate.

It's the sadism of those who live to take revenge on the others
of shocks too radical to be faced up to backwards.

you are in a waiting room leading to a ghost platform.
me – the only passenger, resigned to waiting in vain.
A crooked tree, crippled by the lightnings of pain….
you wish – on the edge of drying out.

WAR, drop by drop back in the bottle
war of ethics, of eternally persecuted people, war of nerves
war to gain continuity, to regain self-esteem
not to live in tiredness.
It's a rustle of dry bones shaken by the desert wind
or maybe just an old skin abandoned somewhere
and that I won't look for.

WAR, feeding on war
letting you know that you can't touch this land
that every invasion implies a martyrdrom of your fellow men
necessary war, war against habits
not to live in tiredness.
No money and no politics, no ideals but one goal
the extasy of contentment, the love of nuisances
pointing everything against everyone…
YOU TRIED TO AFFLICT ME – NOW LEARN HOW TO HIDE.


versione originale in Italiano...::

QUANDO LE IMMUNITA' CROLLANO

Goccia a goccia mi sedavi a distanza, una metodicità inconsciamente perfetta, eran giorni in cui morivo senza lasciare traccia tra le mani di un'impresa smaltimento rifiuti autorizzata alla formattazione della mia spigolosità.. le carte in regola per la biopsia del mio sudario, se avevo un'identità nella tenacia, nell'aggrapparmi ai sentimenti, nel ricordare i più lontani tratti di luce - discussioni, scambi di sguardi, da lì in poi ero la tua lavagna, scriviamoci su "fottuto", dai appendila nello sgabuzzino di un passato da calpestare. Un'altra persona ha condiviso l'esperienza della mutilazione forzata, ma in passivo, e in pochi istanti. Attaccare le immunità per sgretolare le basi, la tattica improvvisata di chi campa di stati d'animo altrui ballando sul cuore un tango eterno - ma al posto dei tacchi coltelli da cucina. Goccia a goccia osservando il denso che si amalgama all'acqua, é il siero che mette al muro ogni intento di reazione. Rendimi partecipe della mia sconfitta, umiliami coi dettagli, ricordami che a 30 anni c'è gente invecchiata meglio di me, modernizza la mia paranoia - incollami ad un cellulare in cui i tuoi segni di sconforto arrivan sempre troppo tardi, svuotami di ogni grazia, impiccami al cappio di apatia e inerzia - riscatta questo talento che tu nella tua aridità non hai mai saputo coltivare. É il sadismo di chi vive per rivendicare sugli altri traumi troppo radicali per essere affrontate a ritroso. Lì da te c'é una sala d'aspetto annessa a un binario fantasma. IO - unico passeggero, rassegnato ad attendere invano. Un albero ricurvo su sé stesso, deformato dai fulmini del dolore.. tu speri - nell'anticamera della siccità. Guerra, goccia a goccia indietro nel flacone, guerra di etica, di genti eternamente perseguitate, guerra di nervi, guerra per darsi una continuità, per riprendersi l'autostima, per non vivere stanco. É un frusciare di ossa secche scosse dal vento del deserto, o forse solo una vecchia pelle che ho abbandonato chissà dove, e non cercherò più. Guerra, nutrirsi di guerra, farti sapere che questa terra non si tocca, che a ogni invasione corrisponde un martirio dei tuoi simili, guerra necessaria, guerra alle abitudini, per non vivere stanco. Senza soldi né politica, senza ideali ma con un obiettivo - l'estasi del compiacimento, l'amore per quel che é fastidio, puntar tutto contro tutti, HAI PROVATO AD AFFLIGGERMI ORA IMPARA A NASCONDERTI



CARDBOARD, I EAT CARBOARD,
CARDBOARD PILES OF CARDBOARD.
CARDBOARD EVERYDAY
SHOWING TEETH AS I PROUDLY CHEW.
CARDBOARD, MUD AND CARDBOARD.
CARDBOARD ON CARDBOARD.
WHO'S TO STAY ALWAYS BENT DOWN
THE NEXT HOLE MEETING THE SCREW

Social expansionism heating your bed
while few steps behind there's somebody growin' & dying of anger
my cancer explodes in front of you screwing my sister.
Cold like this blood pulsating all over my face
hearts turn to nitrogen > nausea stucks my brain.

CARDBOARD, EVERYDAY.
I ABUSE – EATING CARDBOARD.
CARDBOAD – I CHEW. CARDBOARD & MUD.
CARDBOARD, PILES OF CARDBOARD.
WHO'S THE NEXT TO BE BENT
URGE OF HOLES FOR MY SCREW.

Public buttsucker – mutual bed-heater
don't give up, enjoy her climax, deep inside.
Beating my brain on time with the bitterness
of these "dazed but actual" social codes.
Apart from the appearances what can you give?
A metaphor on your life >> plastic flowers, the empty crysalid.
Ever watched behind the walls
reflecting your smarmy brainless smile?
Cold like this bell dividing the rounds of our fight
the strength of an ego vs
the egoism of strength in suit'n'tie.



O.Z. VOORBURGWAL ::
[head reversed me watching myself from an elevated view]
A specular game.... waiting for the umpteenth orgasm
trying to capture that moment and channel 28 years
in few frames showing me the sense of a life.
I BELIEVE IN FRIENDSHIP - but the best friends I ever had
still remain DESPERATION + BLOOD.
The frame's gone - another mouth's filled with cum
we can keep on existing in a perpetual motion of money,
physiologic urges, convenience, politeness,
discard of the non-essential.
I'VE BEEN USED FOR AN ETERNITY
and I'm glad to disappoint
those who'd expect me to do the same.
THE FRAME'S GONE - AS WELL AS THE HERMIT-CRAB CULT
I HAD ON MY SHOULDERS.


words in the song...:

how many friendships have been spoiled up to death
how many eyes corroded by despair
it's the hability to handle the void we have inside
to manipulate the others thru sense-needs and lies.

(love) MAKES THE WORLD BURN NOT GO ROUND
MAKES THE WORLD BURN NOT GO ROUND

How many friendships spoiled up to death.



Non sarò uno scarto della tua selezione
...é stata una gran recita con finale ad illusione
oggi non perdo tempo, mi rialzo e traccio un'altra strada
e nel lasciarti qui contenta, socievole, sempre più appagata
ritorno l'eroe introverso che sfrutta il suo talento
per fottere chi é spento come te,
falso come te, libero come te. Le troie come te.

ODIO A PRIMA VISTA - da qui alla tua estinzione.
AVANTI UN'ALTRA CICCA da ridurre a mozzicone
...e rido di quand'ero fermo, stuzzicadenti nella tua perenne noia
geniale e distruttiva in quel giocare a esser sempre più troia
chilometri di cazzo per guadagnarsi un posto in vista
é il codice per chi é infame come te,
marcio come te, libero come te. Io & le troie come te.

Guardami negli occhi... chi sei - aggregato a lei?
sì, quanto più in basso starei - assecondando lei...
quanto mi umilierei - venerando lei...
quanto altro fegato lascerei nel kenyon dei suoi limiti
quanto non mi piacerei - accanto a lei...
quanta vita trascurerei - per far bella lei...

Io in fondo a un fiume, una larva intrisa di Lexotan
é così che mi volevi
poi "amico" di ripiego, sconfitto e rassegnato
da cagar di striscio nei giorni vuoti
La freddezza al femminile:
un baratro di marmo che inabissa ogni speranza
é un tarlo che mi ossessiona,
ma da quando l'ho inquadrato sono il suo vaiolo eterno.

Guardati gli occhi.. chi sei, aggregato a lei?
quanto altro fegato, quanti altri limiti
quanto non mi piacerei - ombra di lei
quanta vita trascurerei......

ODIO A PRIMA VISTA - da qui alla tua estinzione
È STATA UNA GRAN RECITA completa di illusione
e io quei giorni ho perso tempo ma perdendolo ho cambiato strada
sensazioni quasi istintive, un trip che impone il bianco/nero
il mio mondo chiede morte, non tace sul passato
e attacca chi é inerte come te.
Vuoto come te. Libero come te. Disprezzo per le puttane come te!!!



COMMENTARY (only few statements from this is what gtb actually sings)

This track was originally called "BOMB LA SCINTILLA" and was talking about CB being banned by a preachy Italian @punk crew running a squat called "La Scintilla" due to matters of antipathy and incompatibility of attitude/beliefs, behind fake motives like a personal story on which some of our lyrics/statements were focused on (many years ago) and tons of other bullshits. To us it just looked as a matter of envy and blind competition in a dead scene. It's ways easier to spread shit, boycot and obstruct a band than show acceptance and try to build a reality made of different faces, not necessarily fitting the same standards and dusty ideals. The song title + part of the lyrics have been lately changed according to an even worse experience we had on the last day of our East Coast/USA tour in May 2002. CB have been disallowed to play at "ABC No Rio" in NYC because of the artwork of a CD we released a while back. A lot has been said already on this matter: freedom of expression vs narrow mindedness of the most "political" branches of the scene etc. etc. You can read more about it in the press/reports section.

Welcome a new target, a band promoting rape and sexual obsessions
Fair Yankee decency meeting a subliminal threat to women's safety,
Preventing stay-clean kids from a world of disturbed, discriminating perverts.
Minimize, point the finger. "just a shocking idea that fits their nihilism".
We simply chose our own style of expression for those able to scan the subtleness of details
a multishaped provocation can hide. Are you on the right or simply falling in a trap
devised to prove who's the fool and who has class? I'm sorry we can't help fools to
get smarter, for you I'll always be a rough expression of misogyny, sexism and male superiority.

segregated for years
cut out from yer fake scene for no concrete reason
suppressing a mentality you disapprove or envy
mouths kept shut under the axe of prejudice and PC elitarism
isolation of the different - makes me feel like censored
wasn't that something you were supposed to oppose?
Never thought that somebody could wish to defend individuality
from a reality of polished mediocrity, pseudo fights for the abused
lesbian pride, rrriot sluts, idealistic preachers, intellectual fags pointing the finger,
anti-homophobic sermons… your paranoias, your wasted time.
a smell of frustration … as you're always viciously sticked to the smallest problem
aware of the fact that you've no balls enough to face the real ones
that's why you ban us, that's why you take up the stand of those that can judge,
you feel right when you accuse me - as I'm the kind of problem you've been looking for
as we inspire antipathy in our being ourselves, living the HC thing in a personal way,
not givin' a shit about your militant political slime.

PS: "shall we burn'em down in their rich kids squats
where their bitches are having home births
because the 90's children must be taught
to kill at will and fuck peace on earth" (RUPTURE)



I cross the mountains, I plane
I let myself glide over the breeze
slowly, grazing the woods – and you'll let me go
I jump down the stairwell, but the fall is soft
then I run away, free, untouchable
protected by spores.

Back to the parallel floor I'm a psychosomatic prey
the more I think negative the more my life fades
here on the shittiest train or queued up in some gloomy office
drugged by sex or TV serials –
bored by the umpteenth useless chat
just to see her once more under my balls.
Watch me as I suffocate in these old trivial thoughts
subjected to human heaviness, absorbed by this halo of social failure.
Drowning among the crowd I feel an impulse of death
though sadly aware that it's me the one getting progressively fucked.

Another bolivian guerrilla
piling up corpses of rich drug-dealers' wives
reduced to pieces by my unstoppable machete
– a private apocalypse of rapes and blood
then serbian freedom-fighter torturing a yankee pilot
fallen with his "invisible" bomber right on my Orthodox Church

Back to the parallel floor I'm a psychosomatic prey
as paranoias increase the spores die away
here on the shittiest train or queued up in some gloomy office
drugged by sex or TV serials –
bored by the umpteenth useless chat
just to see her once more under my balls.
Watch me as I suffocate in these old trivial thoughts
subjected to human heaviness, absorbed by this halo of social failure.
Drowning among the crowd I feel an impulse of death
though sadly aware that it's me the one getting progressively fucked.

People's extinction comes true only in a non-synchronized planet
that roams in the universe,
the universe behind my eyes.



Zdrav ja te mrzim -
moja svetla nece jos dugo blistati

RAK NE PRESTAJE
Tvoja navika, tvoj karakter su povecali moj bol

RAK NE PRESTAJE
...al' mozda ce se vratiti - ZA TEBE!



Don't reach an understanding
... their shit-smelling words,
bare your teeth, push the right way

GET OUT AND BITE THEM (x2)

I won't submissively care,
no need to reinstate myself
no chance to lock up my nerves

GET OUT AND BITE THEM (x2)

I won't submissively care,
people - their habits, their shame...
"Can't stay inside their laws"

GET OUT AND BITE THEM (x3)

My eyes - burn with revenge



good ol' Yugoslavija - you're my holocaust of sadness
a country backed by an ancient history of knowledge and tradition
suppressed by a new world order that no mouth denies
subjected to an alien system of values and concepts
punished 'cos non-fitting the mandatory westernized standards
poisoned with separations and inner conflicts
pressed between catholic bigotry and Muslim fanatism.

..and US peacekeepers have brought death to my brothers
to a land whose only guilt is to be stuck among different fires
US peacekeepers point Serbs as traitors and criminals
in a war of words and pictures hiding a dark storm of lies
US peacekeepers have done justice to no-one:
as NATO missiles rained down KLA murders went on indisturbed
US peacekeepers bombing hospitals & monuments
leaving hundreds of civilians in a nightmare of blood.

WE STARE IMPASSIVELY
DESPERATELY INSENSITIVE

Krajina: a mass of serbian natives kicked out of their land
thanx to a pitful "constitutional change"
around the lines of outgoing refugees croatian soldiers and fanatics enjoy throwing stones,
spitting and insulting people whose only guilt was to be born in a territory doomed to be "traded".

Kosovo: entire families deprived of their houses,
children massacred > bowels turned up on their faces
stabbings, terrorist injuries to non-military targets....
ever wondered what's the real NATO's goal on this sphere of occupation and hatred?
To ensure the safety of a handful of rough albanian invaders? No way.
Does an average US citizen have a minimum knowledge or interest on the history of the Balkans??

Starting a war to save peace is like
fucking to preserve virginity.

you & your fat ass parked in front of a TV
crunching pop-corns happily Yankee brainwashed
you ignoring where real culture derives from
…come to Srbija to scream and suffer.

Treated like a bunch of savages
Lead to an injustified war
Broadcast manipulation: fucked up.

Just because we are Serbs we have to pay.



Half-sleep, staring at an impending fatal widow
the mask of my downfall shining in this night of ordinary quiet.
CHOOSE____ : chained to insecuty / forsaken by purity /
another game of jealousy we won't get rid of. /
Invisible glue quick-setting hopes, temper, resolution.
Cornered by a puzzle-shaped situation no move could float to the top.
Entering an era of psychotropics, sadness, asocialism
then violence echoing like a whale goin' adrift to its death.
CHOOSE____ : greet this phase of slavery / sink into a rien-ne-va-plus of empathy /
weak human psychology every sentence a stab.
Abuse me, slander my dignity,
give me scars, humiliations, more piss to swallow,
slice through the flesh >> let blood spatter until I faint
divulge my defects then burst into laughter,
trample on the thin shore I still dare to call "LIFE"...
have fun as long as it comes my turn.

ME & HER LOST TO NOWHERE
PINCHING THE PSYCHE, A PARANOID BRAIN FOLDER.



jurisdictions. jurisdictions. jurisdictions.
jurisdictions. jurisdictions. jurisdictions.
jurisdictions. jurisdictions. jurisdictions.

Every sub-citizen's social obligation
is to fall in a meaningless breach,
then drag cross & nails in front of the jury,
be condemned and pay,
spit bowels till the last coin,
the last millilitre of blood. jurisdictions


Available for being the exploitable...
we work to give back the mere shit that we've earned.
Registered at their court, a signature to a file,
we increase civil power and demote basic rights.

jurisdictions. jurisdictions. jurisdictions.
jurisdictions. jurisdictions. jurisdictions.
jurisdictions. jurisdictions. jurisdictions.



Dedicated to YOU - hidden in a room full of mirrors
lookin' at them just before goin' out at night..........

Your father's dying - you're parasitizing in his new house
fattening on his incomes,
sleeping half a day like a vermin in a cesspool.
Faster, faster... please pass out ... expire ....
A dance of mellow tears:
outwardly tragic - inwardly cold and calculating.
Born of an error, born to redeem a vicious sensation of guilt
by charming and living of the others.

OUT OF TIME, OUT OF SIGHT
OUT OF ANYTHING SHE WOULD NOT LIKE
A POISONED FIX DRAINING ALL YER HOPES
A FEMALE VULTURE TO DEVOUR ALL THE HAVINGS YOU'LL AFFORD.

Her definitive aim / is to take more + more /
to retire him in a slave's shell /
bending feelings under sword.... /

TIME OF THE VULTURES!
TIME OF THE VULTURES! (x 2)



(this text has been removed from various CB records
due to the endless diatribes that took place as soon as
somebody from the SHARP scene heard about it.
….at least we tried to say what we think, unlike the majority of
cowards in the scene of today. GTB anyway wants to apologize for
the somehow generic expression used, which may offend people
who's been kind and honest to us for ages and not just those we refer to.
Be yourself - not part of a category, call yourself a man,
not a skin, a punk or whatever. This means being the "original")

COMMENTARY:
Idiots think slower,
pigs shouting "OI!-OI!" when some other shaved puppet goes up on stage,
always the same hits - unchangeable juke boxes, beer after beer.
Idiots think slower but kick harder,
sticked to old fashioned crap, all in Fred Perry's, all in the same boots

THE KIDS ARE UNITED - THE KIDS ARE UNIFORMED

..they'll tell they're true rebels and you won't contradict
rebels conformed to a stereotype, even street life can be a model.
Idiots think slower, idiots need their icons.
Idiots think slower but beat faster,
and fast they can be in screwing up a life
attacking 10 against 1, breaking bottles on your face.
Lonsdale = corporate / Fred Perry = corporate
Dr.Martens = corporate / Recycled trends = corporate
IN-CORPORATED / CORPORATE.
IN-CORPORATED / CORPORATE.

This mass of SHARP scumbags pretends to be antiracist
but acts just the same like Mussolini's vigilantes.
S.H.A.R.P. to stand vs something that is not so dissimilar from them
the only thing that differs lies in a political excuse.

PS: graffiti seen a while back in Belgrade / Serbia...:
BETTER DEAD THAN SKINHEAD



I look in her eyes, I see the walls of this city - I HATE HER
socially dominant, a female corpse kept alive by rules - I HATE HER
avid, spoilt, majesty in a little puddle of piss - I HATE HER
blocks our freedom with asphalt, infects our blood with morals - I HATE HER
She went to the butcher's and bought 2 Kg of blood-stenching meat
I HATE HER

She attended mass and bought God's mercy: "charity & love"
I HATE HER

She voted for a moralist dick, "to suffocate all immigrants in their own pitful shit"
I HATE HER

She came back home and taught her sons to abhor those like me
I HATE HER

Consume your shameful dinner,
then drug your brain with TV-fix - I HATE HER
do the slut with your husband,
somebody said "frequent sex = rejuvenate" - I HATE HER
take the children to school,
be sure to grow them strong, proud and blind as shit - I HATE HER
support ghettoisation...
your race's "sense of property" to banish minorities - I HATE HER



(INTRODUCING THE PERFECT HANDBOOK TO SELF-DEFAMATION)
Inside out of your corpse
emotions won't change
another dull rose wastes its thorns
let me ill-treat my casual vehicle of lust
young dead meat here to regenerate cum.
Queues of dazed slaves claim their weekly dose – INSIDE OUT , INSIDE OUT
Who ends to lead the game / who does the supine whore today – INSIDE OUT , INSIDE OUT
We made it a convenience, grew & spread a psychosis – INSIDE OUT , INSIDE OUT
Anesthetic has been injected / beasts look resigned and emptied – INSIDE OUT
Inside out of your corpse
no-one can show us what's better or worse
compassion and dignity, shall I give a shit
or just train my metabolism to this steroid-fueled society
Buxxx in advance / make room to the next cock – INSIDE OUT , INSIDE OUT
you're a mouth to be shut, never worth of being heard – INSIDE OUT , INSIDE OUT
me. on the route to erase feelings that no longer fit – INSIDE OUT , INSIDE OUT
you. just bend your head, turn my savings into white hot drops – INSIDE OUT

P.S.: 27 YEAR OLD. ADDICTED TO PROSTITUTION
A DOUBLE EDGED FALL INTO ETHICAL PERDITION

Can't you see, I have yer cunt printed on my face.
I'm fucked and gone / lost like the shittiest junkie in his suicide mission to Planet Dope.
If you want something to meditate about, wonder how and why did I come to all this.
Like sperm under water when it curdles, in cholesterol-clots runs this magic virus of frustration
I feel it inside my veins: think of blood slowing down to a jam-like consistency. Heavier.
Can't you see… in this squallid micro-infinite paradise of opportunism
where all humans are motive of disillusion, you women play the unlucky role of…
*** cash converters ***
Any complaints? Kick my face and let's see who's fucking who.



A filthy presence obstructing my veins,
the fanatic exaltation of a negative feeling.
I love to hate, I hate your love.
...and I can't feel affection for people like you.
Consumed verbal roads, projected through our dead lands,
your thoughts - drowned in my tears. A sad premonition.
I love to hate, I hate your love.
...and I can't feel affection for people like you.
Your love is opportunistic, precarious, untruthful.
My hate is stable, irrepressible, aggressive.
I love to hate, I hate your love.
...and I can't feel affection for people like you.



aka the invincible "2 eyes for 1 eye" theory
Did we ever had a word?
Offence is taken - the sandglass is running
what the fuck did we ever share in this world?
You failed once - you'll pay 10 x
..setting up fire to a stake from now on burning up your ass
U N R E M O V A B L E
Offence is taken - face my doublesided genes:
SIDE I) kindness, elegance hospitality
--spitting on these manners you felt in the backdoor
SIDE II) carelessness equals repression
--now discover a race wth no sense of diplomacy;
under this friendly exterior -
a shroud of red, squealing nerves.
WEIGH UP EVERY SINGLE FUCK YOU SAY
GAIN YOUR PRIDE, 2 EYES FOR 1 EYE
IF DISHONOUR COMES - GIVE REVENGE
LIFE FOR US HAS LEFT NO TEARS



scadrò anche sul monotematico
ma mi esalto proprio per questo
nuovi ritocchi a quel naif che detesti
sì, é misogino l'innesto
un altro aneddoto da pomeriggio di chiacchiere
o una formula che spianerà qualche strada
avrà senso per chi combatte a ritroso
farà pena a chi si schiera perdente
con in testa il più inerme "lasciala stare"

VOMITARE LUOGHI COMUNI:
tra due ex metà perfette l'intesa non c'é....
sei il solito rancio c'é chi é meglio di te.
"Il suo tempo é passato restan solo i però
masticato & evacuato non lo rimpiangerò...."

QUANTO SEI TROIA - QUANTO SEI TROIA
ancora una goccia per far sì che lui muoia

QUANTO SEI TROIA - QUANTO SEI TROIA
perché in fondo al tuo cesso c'é un coglione che ingoia
esauriti i vantaggi cosa resta di lei?
una scia di ricordi – non si assorbirà mai.
2 coltelli per incidere il domani che avrò
le sue arterie o il mio esilio
quale manico impugnerò?

PARTNER DELLA CONVENIENZA
degrado del gusto, abruttimento

PARTNER DELLA CONVENIENZA
ogni scopata un investimento

ormai non c'é più niente su cui sorridere e scherzare
tramonto / un giorno vuoto - risveglio / un giorno vuoto

il freddo mi devasta. nervature da irrorare
é forzato / voler parlare. é sconforto / socializzare

PARTNER DELLA CONVENIENZA
arma suprema di appiattimento

PARTNER DELLA CONVENIENZA
ogni scopata un investimento
ormai non c'é più niente su cui sorridere e scherzare
tramonto / un giorno vuoto - risveglio / un giorno vuoto
il freddo mi devasta. nervature da irrorare
é forzato / voler parlare. é sconforto / socializzare
Cambiar l'acqua a dei fiori già morti
io per anni ho vissuto di questo
rassegnato a riscaldare gli avanzi
a castrare ogni intento.
Oggi in cielo non ho più una stella
solo un pianeta che riflette dolore
sembra un occhio svuotato dal bulbo
senza grazia né timore.

NIENTE STELLE NEL MIO CIELO
SOLO UN OCCHIO AVVELENATO
CHE PUNTA VERSO TE.