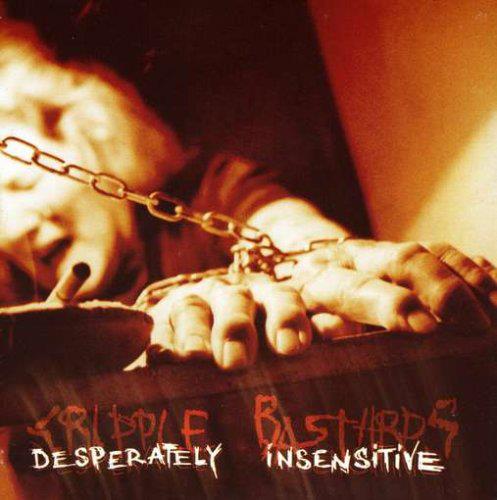 LINE-UP:

Giulio the Bastard - vocals
Schintu the Wretched - bass
Der Kommissar - guitar
Al Mazzotti - drums

recorded in April 2002 @ "Nadir" studios, Genova.
Sound engineer : Tommy Talamanca
> CD version on Necropolis DeathVomit, DVR 023, 2000 (?) made for the US marketing, 1200-1500 (?) printed in Europe by Century Media for the EU marketing. The european edition has the label's logo a bit larger (on the back of the inlay-card close to the tracklist) and few more slight variations. LP edition on Deep 6 Records, DeepSix # 53, 2000 (?) copies pressed. Picture disc edition on Massacro Records, MAS#04, 500 copies pressed.
> CD comes in a wonderful packaging that consists of a huge poster bent in many parts, including all lyrics.
> LP has a full-color gatefold cover and a huge poster inside including band members' pics and "2 eyes for 1 eye" art.
CREDITS:
>Nik SStnz - artwork / graphics
>Lorenzo Arioni - tortured grannie photoset

Desperately Insensitive
1. Fear in the squats of the dead
2. When immunities fall
3. Cardboard
4. Intravenous love-drip
5. Odio a prima vista
6. Bomb ABC No Rio
7. The mushroom diarhhoea
8. Rak ne prestaje
9. Get out and bite them
10. Desperately insensitive
11. Me & her in a microcosm of torture
12. Jurisdictions
13. Time of the vultures
14. Idiots think slower
15. I hate her
16. Inside out
17. Being ripped off in 2002
18. Respect or death
19. Partner della convenienza
CB at their 3rd ful-lenght album, the first with the final (current) line-up - which has been together from summer 2000 to now - gaining the status of most "stable" CB line-up ever. This is also the first studio effort with Der Kommissar on guitar, bringing a radical revolution to the peculiar CB sound, changing from the extreme pedal distortion of Alberto the Crippler to a ways cleaner solution, mainly focused on power and definition. Here's how Necropolis Records introduced the album:

"CRIPPLE BASTARDS are known throughout the grinding underground as "Italy's Purest Manifestation of Hate" and one listen to any of their incendiary releases from any point in their over-decade-long career bears this out beyond a shadow of a doubt. With the release of "Desperately Insensitive", the band have truly coalesced their influences as well as their experience into a seamlessly ferocious, utterly overpowering experience. Showcasing their propensity for progressing the Grindcore medium while never slackening their attack, CRIPPLE BASTARDS have pushed themselves far beyond their own precedents. Unceasingly up-tempo, "Desperately Insensitive" processes post-hardcore, brutal Death Metal, fast-core, noise/math-core and of course, the essential ingredient of Grindcore through their own barbaric, trademark sound. Featuring elements of dissonance and angularity that would have sounded out of place on some of their previous recordings, "Desperately Insensitive" stands clearly above not only the band's previous work, but above the work of the vast majority of their peers. Recorded by at Nadir Studios Tommy Talamanca of Italian Metal act SADIST, "Desperately Insensitive" is only made more powerful and aggressive by the clean and crisp sound. Each of the 19 tracks is in-your-face, rude, and undeniable. The savagely ferocious drums provoke the massive wall of spiteful guitars and vicious bass to dizzying heights and depths of extremity and Giulio the Bastard's manic screams assault the listener from all directions, from frantic Japcore screams, to subsonic Death grunts and pissed-off Hardcore bursts. The power and vision of CRIPPLE BASTARDS is irrefutable. The band's anti-politically-correct political lyrics attack everyone, and especially the hypocrisy of the punk/HC scene, no holds barred, brutal spite, made even more vitriolic by Giulio's relentless vocal delivery. In short this album is delivers on all counts, with its stylistically sadistic artwork, caustic lyrics, and of course, its monolithic Grindcore attack".

With no doubt, this record traces a brand new chapter in CB's musical career. The production style is completely different than the analogic line we have been following for ages at Acqualuce Studios, abandoning the wall-of-noise guitar that characterized many earlier works + the hyper-frantic drum approach that was fast-to-the-bone but miles away from the tightness Al Mazzotti brought in. "Desperately insensitive" stands as CB's first attempt to combine the peculiar Grindcore extremism with a kind of intensity/definition we never reached before. Besides the musical analysis, the lyrics are a follow-up to the mood expressed thru "Misantropo a senso unico" getting even more direct, obsessive and psychotic. The basic difference here is the language's choice, which gets back to a majority of tracks in English and just a couple in Italian + Serbian. The artwork consists on the re-elaboration of details from a huge photoset an horror-artist made exclusively for us. A grannie chained into a desolated wharehouse (creating a feel of snuff background), forced to self-infliction of cigarette burns, once more bringing to light that concept of human annihilation and existential decay CB have always played on. A step forward in CB's evolution, creating the roots for a new dimension of uncompromised extremism.