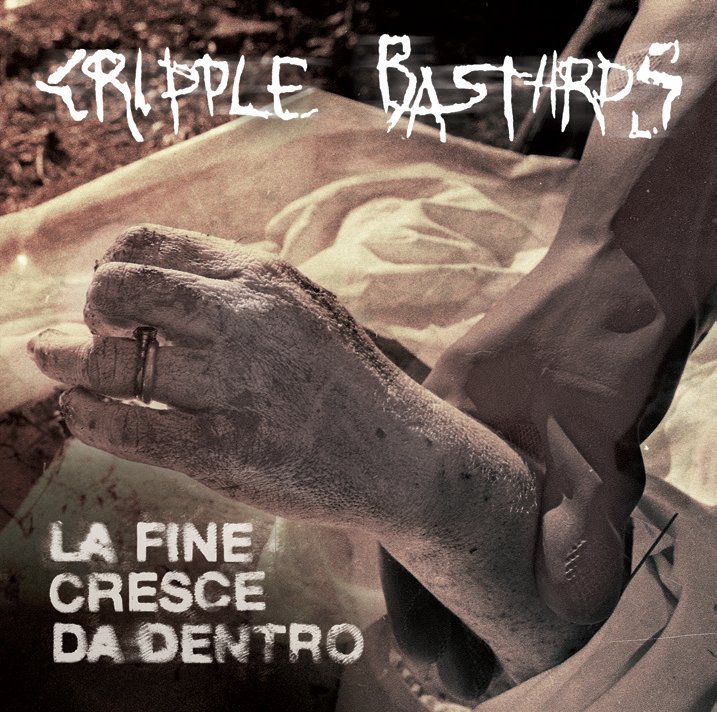 release date:
November 09, 2018
share:
LINE-UP:


Giulio the Bastard - vocals and lyrics
Schintu the Wretched - bass
Der Kommissar - guitar
Raphael Saini - drums

guitar (studio) Wild Vitto


ADDITIONAL CREDITS: Guido "Zazzo" Sassola – guest vocals on "Dove entra il coltello"
TWYS – samples and electronics
Guasco, Nino the Bastard and Cripple Bastards – backing vocals



Produced by CRIPPLE BASTARDS


Music recorded October 2017 – February 2018 by Stefano Santi at SPVN Studio – Como, Italy

Vocals recorded February 2018 by The Hand Of Doom at Toxic Basement Studio – Milan, Italy

Mixed March 2018 by Fredrik Nordström at Studio Fredman – Gotheburg, Sweden Assistant mix engineer: Stefano Santi

Mastered April 2018 by Peter In de Betou at Tailor Maid Production – Stockholm, Sweden

Mastering for vinyl version by The Hand Of Doom at Toxic Basement Studio – Milan, Italy

Front cover, back cover and inner pictures provided by Alan Maglio and used under permission of Centro Apice - Milano, Italy.

Layout and art direction

by Nicola Fornasari

Lyrics translated by Angela Arnone
La fine cresce da dentro
1. Suicidio assistito
2. Non coinvolto
3. La memoria del dolore
4. Passi nel vuoto
5. Ombra nell'ombra
6. Due metà in un errore
7. Chiusura forzata
8. Dove entra il coltello
9. Crimine contro l'immagine
10. Narcolessia emotiva
11. Nervi in guerra
12. Sguardo neutro
13. Interrato vivo
14. Equilibrio ansiogeno
15. Quali sentieri
16. Decessi per cause sconosciute
17. Recidive
18. Crociati del mare interno
LYRICS
nutrito.assecondato.plagiato
sfruttato.indotto a spendere.liquidato

Un braccio si stende - la croce ha su un nome
il conforto di chi hai voluto vicino
ciclo chiuso – spreco di vita come tanti

[ASSISTED SUICIDE]
nurtured.pandered.plagiarized.
exploited.induced to spend.liquidated

One arm stretches out – the cross has a name on it
the comfort of those you wanted near
a closed cycle – life wasted like so many


Forza inversa al destino
come grida tra frequenze disturbate
irrompe sulle rovine che hai disperso
per schiantarsi sul dolore altrui

Forza inversa al destino
da sequenze di fotogrammi slegati
si incendia di inesauribile rabbia
non coinvolto dalla tua superficialità

È una lama temprata sull'indifferenza affettiva
si accanisce tra le falle del tuo plagio alla vita
"faccia a faccia come gestisci le pause.."
sei un'ennesima esasperazione del vago
ne evidenzi l'aspetto più triste,
in un dominio di vittorie sul nulla
sei un eroe ma pur sempre per sbaglio..

Per chi dice mai come voi ma alla fine è uguale a tanti
per chi nasconde conformismo dietro l'ennesimo personaggio
per chi non starà mai in piedi se non grazie ad un atteggiamento
e sprofonda nel senso comune di protezione del normale,
un incudine di reazioni assoggettate alla via di mezzo.

Quando entra in campo il possesso tra personalità di facciata
quando la noia collettiva abbassa al rango di pretesto ogni istinto
senti l'eco della fine crescere da dentro, sta a te allontanarlo
ti insegna che il perdono è dei deboli – in tempi spenti che tradiscono
mai retrocedere ad un punto vulnerabile, mai lasciar passare
..e non ti femare.

Forza inversa al destino
come incubo di ossessività radicata
un raggio di cenere che ti distorce il volto
la costante che non ci avvicinerà mai (x2)

[NOT INVOLVED]
 
Force fighting against fate
like screeches in jammed frequencies
breaks into the ruins you've scattered
crashing into other people's pain

Force fighting against fate
in unraveled frame sequences
fired by endless anger
not entangled in your shallowness

This blade hardened on cold indifference
rages around the flaws of your bootleg life
'face to face how do you handle timeout …'
you're just another hassle in the vague
you turn the spotlight on the saddest part,
in a domain of victory over nothing
you're a hero but only by accident ...

For those who say 'never like you' but in the end are just like everyone else
for those who hide their conventionality behind yet another façade
for those who never stand up except when they're posing
and sink into the hackneyed sense of protection of normality,
reactions hammered into the middle way.

When façade personality comes into play
when collective boredom diminishes every instinct to the rank of pretext
you feel the echo of the end grow from within, it's up to you to push it away,
it teaches you that only the weak forgive – in dead times that betray
never pull back to a vulnerable spot, never let go
… and don't stop.

Force fighting against fate
like an obsessive recurring nightmare
a beam of ashes that distorts your face
the constant that won't ever bring us close (x 2)



Da un quartiere abbandonato
intersezione di vie sconnesse, freddo innaturale
tra attività fallite e passanti casuali che si evitano
quale senso di appartenenza
non bastano ricordi di tempi migliori per sentirsi padroni,
resta il semplice fatto che non voglio vederti qui
al di là delle origini una semplice sensazione:
hai una ragione in meno di me per esserci.
Devi andartene o morire.

Tra le griglie delle loro finestre la libertà è lontana
come se avessi sognato per tutta una vita, ora al risveglio è chiaro,
questo è il mio paese ma non c'è più la mia gente.
Una campana scandisce il panico tra cimiteri distrutti, case dilaniate
un artiglio straniero dà indicazioni, ci tiene sotto inquadratura
vuol strappare fino l'ultima moneta al più povero
perforare il suolo per tormentare le ossa dei miei antenati,
rivendere i resti dei miei santi.
É un'accusa promossa a giudice.. "lascia che si scannino"
non c'è più niente per me, nessuna frase che possa esprimere dolore,
solo una specie estinta che sopravvive attraverso gesta
di entità mai sconfitte che si rialzano nonostante le ferite.

Penso a chi è realmente stato invaso
a chi ancora oggi dice "nessuno può sapere cosa porterà il vento"
guardando le macerie di secoli abbattuti
sotto il mio cielo impugno il suo rancore
fosse anche l'ultimo stagno disidratato da noia e stanchezza indotta
ha alle radici qualcosa che neanche puoi avvertire
e la sua ultima lacrima invoca..:
qui il tuo momento non arriverà mai.

PS:
Al ritorno ti aspetto sul ponte per vedere chi passerà alla fine
se necessario il sangue chiuderà la storia.

[MEMORY OF PAIN]
From an abandoned neighbourhood
intersection of disconnected roads,
unnatural cold among shut-down stores and random passers-by avoiding each other
what sense of belonging
there aren't enough memories of better times to feel in command,
the fact is that I don't want to see you here
beyond the origins a simple sensation:
you have one less reason than me to be there.
You have to leave or die.

From the bars of their windows freedom is far away
as if I'd been dreaming my whole life, now I'm awake and it's all clear,
this is my place, but my people aren't here now.
A bell tolls out panic among destroyed cemeteries, houses torn apart
A foreign claw gives directions, keeps us all in its sights
wants to tear even the last coin from the poorest
pierce the ground to torment the bones of my ancestors,
sell the relics of my saints.
It's an accusation promoted to judge… 'let them kill one another'
there's nothing left for me, no words that can express pain,
only an extinct species that survives through gestures
of entities never defeated that rise up despite the wounds.

I think of those who really have been invaded
those who still say 'nobody can know what the wind will bring'
looking at the rubble of demolished centuries
under my sky I grip this rancour
be it the last pool dehydrated by boredom and induced exhaustion
at its roots there's something you don't even notice
and the last tear invokes...
here your day will never come.

PS:
On the way back, I'll wait on the bridge to see who comes by at the end
if necessary, blood will close the story.



Morti che nessuno sotterra
prove per un nuovo stadio di sopruso
la merda di un consumatore medio
il flusso che dirotta ogni nostro passo nel vuoto

Quel che ci resta è desolazione
ma non ha senso rendersene conto
è il peso della sopravvivenza
quanto spendi / quanto puoi costare
sei più un vantaggio ridotto in malattia
o come leva per il controllo su altri..
assorbito dalla monotonia di una parte
o logorato nella massa dei sempre più soli.

Qualsiasi ruolo hai
non ti riscatterà mai

Non li vedi
sono mani che si contorcono tra gli scaffali di un punto di spreco
colonne ferme che intasano / anche senza un motivo /
"la giornata di uscita"
svaniti nella proiezione sociale di un ego sempre più piccolo
vacuo nei ricordi
istantanee di aggregazione come brandelli che non si distinguono,
in un carnaio ormai senza più età

.."brandelli che non si distinguono"
sotto un tir che falcia a zigzag
volti, ossa e sangue che si fondono
all'insegna di moventi incomprensibili

Qualsiasi ruolo hai
non ti riscatterà mai

[STEPS INTO THE VOID]

Dead that no one buries
trials for a new level of abuse
crap of the average consumer
the flow that hijacks our every step into the void

What's left is desolation
but it doesn't make sense to realize it
it's the weight of survival
how much you spend / how much you can cost
you're more of a benefit when you're sick
or as a lever to control others ...
absorbed by the monotony of a part
or worn down in the mass of the increasingly lonely.

Whatever role you have
will never redeem you

You don't see them
they're hands that writhe among the shelves of a point of waste
immobile columns that clog / even without reason /
'the exit day'
fading into the social projection of an ever-smaller ego
mindless memories
snapshots of aggregation as unidentifiable shreds,
in now ageless carnage

… 'unidentifiable shreds'
under a truck twisting across
faces, bones and blood that fuse
in the banner of incomprehensible motives

Whatever role you have
will never redeem you


Braccato da moderni appestati,
piaga stagnante nel suo grigio annacquato
mi incolli alle spalle un marchio sempre più scarno
quanto mai distante dalla sua storia attribuita.
Già assemblato, una mappa ripercorsa..
atterrito da un passato di cui sarai sempre colpevole
tra chi deambula nell'inefficienza del rancore altrui
a chi emula martiri che avrebbero solo respinto
una giustizia così piatta, semplificata.
Resta tra i miei simboli - l'ultima voragine
per darti un tono, per riassemblare una frattura
troppo composta
per concederti
un altro passo.

[SHADOW IN THE SHADOW]

Hunted down by modern lepers,
stagnant sores in its watered-down grey
you glue a brand that's scrawnier than ever to my back
more distant than ever from its given history.
Already assembled, a map already traced out…
appalled by a past you'll always be guilty of
among those who stumble in the inefficiency of the grudges of others
to those who emulate martyrs who would only have rejected
a justice so dreary, so simplified.
It's there still among my symbols – the last chasm
to buck you up, to repair a fracture
too composed
to give you
another step.


La porta dietro
una relazione al termine
ogni frangente interminabile
quando tutto inizia a ribaltarsi
"avrei voluto che fossi tu a morire"
quando la sintonia evapora nel fastidio
progetti comuni deragliano sull'inganno (x2)

Dal punto in cui sei ora non ti sottrai
è il contrappasso per quanto hai scalato
per raggiungere un picco di tregua
di fronte all'incapacità di affrontare te stesso
dal punto in cui sei ora non ti sottrai
la felicità non arriva mai tramite un altro

Risponde piangendo
perché in te avverte
solo più tonalità spettrali
Si muove evitandoti
perché adesso ogni tua attenzione
risuona come un gesto forzato

Avete deciso di stare insieme
ma questo non include il sentirti parlare.
Non vale neanche più sfoggiare quello che chiavi
siete due zavorre ancorate che colano a fondo..

Non hai più una vita
l'ha annientata lei
e forse tra non molto
la annienterà di più
allontanandosi da te
Non hai più una vita
e non puoi immaginare
quanto freddo faccia lì
perché non uscirai mai..

La porta dietro
svela personalità offuscate
involute ad organismi ospiti provvisori
niente è più come all'inizio
siete solo migliorati nell'escludervi a vicenda.

[TWO HALVES IN AN ERROR]
 
The door behind
a dying affair
every interminable instance
when it all starts to tip over
'I wish it was you who'd died'
When understanding evaporates into unease
shared projects derail in deception (x 2)

From the point where you are now, you don't pull back
it's retaliation for how far you've climbed
to reach a peak of truce
faced with the inability to face yourself
From the point where you are now, you don't pull back
happiness never comes through someone else

Replying in tears
because in you she sees
only more spectral shades
She skirts around you
because now every act
resonates like a forced gesture

You decided to stay together
but that doesn't include hearing you talk.
It's not even worth showing off what you screw
You're two weighted ballasts sinking deep...

You don't have a life anymore
she's crushed it
and maybe soon enough
she will crush it even more
to get away from you
You don't have a life anymore
and you can't imagine
how cold it'll be there
because you'll never get out.

The door behind
reveals blurred personalities
involuted to temporary host bodies
nothing is the way it was at the beginning
you're just better at shutting each other out.



Un momento come un altro
da assoggettato a passivo
dove non conta come ti senti
ma il gusto di essere stato seguito.
Un'altra bottiglia senza messaggi
in un fiume di disperazione
affonda e non si chiede chi l'abbia spinta fin lì

Sarai un protagonista
ma sempre sotto ricatto..
per un segnale direzionato
è superfluo l'istinto
c'è chi procede, con o senza di te.

Chiusura forzata
chi non percepisce il peso del compromesso
chi non ha spunti se non citazioni
chi non si esprime se non di riflesso
Chiusura forzata
quando ti alzi e non hai nulla da creare
non trovi stacchi tra lucidità e anemia
alla deriva su un parallelo sedentario..
Non vedi a chi fa comodo averti ridotto così
non sai che demotivato coincide ad innocuo.

Può andare bene se accetti
un carcere esterno dove sei a portata di tutti,
e anche l'ultimo perdente ha voce in capitolo
per lapidarti o agevolare la tua prostrazione.
Può andare bene se dai per scontato
che chiunque possa prendersi un pezzo di te..

È inutile che ci ripensi adesso,
muori senza capire perché.

Un momento come un altro
nella spersonalizzazione
abbattuto o entusiasta
sarai sempre confinato..

[FORCED CLOSURE]

A moment like any other
from subjugated to passive
where how you feel doesn't count
only the taste of being followed.
Another bottle without messages
in a river of despair
sinks and doesn't ask who pushed it so far

You'll be a big player
but always blackmailed ...
for a directed signal
instinct is superfluous
someone goes ahead, with or without you.

Forced closure
some don't perceive the weight of compromise
some have no ideas except quotes
some only speak up in reply
Forced closure
when you stand up and have nothing to create
you find no gap between lucidity and anaemia
adrift on a sedentary parallel...
Can't you see who's happy to have driven you to this
don't you know that demotivated means harmless.

It can be OK if you accept
an external prison where you're within everyone's reach,
and even the last loser has a say
to stone you or to smooth the way to your despair.
It can go OK if you take for granted
that anyone can take a piece of you...

You don't need to think about it now,
just die without understanding why.

One moment like any another
in depersonalization
downcast or enthusiastic
you'll always be restricted...


Dove entra il coltello
si apre un mondo che non puoi precludere con altre scuse
una pietra lascia il cuore, effetto lacrime su carta

"non importa se stai mentendo
autoconvinciti del tutto che questa è la verità
e nega fino all'ultimo a prova contraria".

Ricordo quando me l'hai detto
è un quadro che non si schioda dalla mente
dove entra il coltello
non lo rimargini con altre scuse.

[WHERE THE KNIFE GOES IN]

Where the knife goes in
a world opens that you can't impede with other excuses
a stone leaves the heart,
the effect of tears on paper..

'it doesn't matter if you're lying
completely convinced that this is the truth
and denying even proof to the contrary'.

I remember when you told me
it's a picture I can't get out of my mind
where the knife goes in
can't be healed with other excuses.


Estranea,
fuori dai miei confini
qualsiasi valore io rispetti
un cesso senza fondo su una cornice di inganni
da cui affiora lo squallore del tuo ego
Domina
su qualità inesistenti
da un dirupo di miserie ben celate
dove solo chi avanza calpestando alla cieca
attrae..

Estranea,
non conti un cazzo
neanche un potenziale nemico..
qui non la spunta chi sa vendersi meglio,
non regge la messa in scena.

Estranea,
nata in un paese in cui non hai mai messo piede.

Estranea.

Inutile come il farmaco più blando
davanti a un'aggressione pandemica
la tua determinazione si spezza alla prima raffica
perché non ha mai avuto radici
si è sempre districata avvinghiandosi
ad una controparte ancora più debole.

Nata in un paese in cui non hai mai messo piede.

Pretesti da luogo comune, visibilità sociale,
strategie di aggregazione.. qui non c'è attenuante
a frenarmi dal sognare ogni dettaglio della tua morte
sperare che qualcuno faccia a pezzi la tua famiglia
uno a uno, partendo dal più piccolo.

[CRIME AGAINST IMAGE]
 
Stranger,
outside my borders
any value I may respect
a bottomless cesspit on a frame of deceit
and the squalor of your ego emerges from it
Dominates
on non-existent qualities
from a cliff of well-hidden miseries
where only who progresses trampling blindly
attracts...

Stranger,
you're not worth a fuck
not even a potential enemy...
this isn't where the better salesman gets the upper hand,
they can't resist the set-up.

Stranger,
Born in a country where you never set foot.

Stranger.

As much use as the blandest medication
in the face of pandemic attack
your determination cracks at the first rattle
because you never had roots
always disentangling by clinging
to an even weaker counterpart.

Born in a country where you never set foot.

Pretexts from the commonplace, social visibility,
aggregation strategies … here there are no mitigations
to stop me from dreaming every detail of your death
hoping someone will tear your family apart
one by one, starting with the smallest.



È un rituale sofferto
frasi incollate dal vissuto altrui
quel che hai scelto di esporre al mondo
per celebrare ciò che non sarai mai

Così muore il talento
la qualità della persona che hai perso
nell'urgenza di un altro commento
a un numero di consensi aumentati
derivato da sangue sbiadito
che opinioni non ne ha mai forgiate
una progenie di aborti dissociati…

Ti osservo, ci passiamo attraverso
sei già altrove a metà risposta, ci passiamo attraverso
selezioni discorsi ma non sei in grado di fissarli
mi chiedo quanta autostima sia stata in grado
di infonderti la fogna che ti ha rigurgitato
quanto realizzi di essere ai margini del superfluo,
se soffri senza una finestra da cui proclamare
ciclicamente la tua monotona perdita di impulsi.. (x2)

DENTRO AD OGNI PERCORSO COPIATO
CHI HA PERSO E CHI CI HA SEMPRE MARCIATO

Da quanto tempo non ti accorgi di essere fermo
di tirare avanti solo col loro additivo
su un dormiveglia di stimoli dettati
COSI' MUORE IL TALENTO
DI CHI SI TRASCINA A CIRCUITO SPENTO…

[EMOTIONAL NARCOLEPSY]

It's an aching ritual
words pasted from other people's lives
what you've chosen to tell the world
to celebrate what you'll never be

Talent dies then
the best of the person you've lost
in the urgency of another comment
to a bigger number of agrees
derived from faded blood
that never forged opinions
offspring of disconnected abortions...

I watch you, we pass through each other
you're already elsewhere in mid-reply, we pass through each other
you choose topics, but you can't stick with them
I wonder how much self esteem you picked up in the sewer that spat you out
how much you realize you're at the margins of the superfluous,
if you suffer when there's no window where you can proclaim
over and over your monotonous loss of impulses... (x 2)

INSIDE EVERY COPIED ROUTE
SOME HAVE LOST, AND SOME HAVE ALWAYS PLAYED SMART

How long is it since you realized you're not moving,
getting along only with their additive
snoozing in dictated stimuli

TALENT DIES THIS WAY
FOR THOSE WHO DRAG THEMSELVES UNPLUGGED…


È l'impatto dei nervi
e non si alleggerirà mai
mi corrode da dentro
ma mette in luce cosa sei
Una vetrata dopo anni di gelo
non sai in che giorno può crollare
né quanto a fondo può sfregiare…

Da qui nessun ricordo è nitido senza sofferenza
in controfase con il ritmo della tua indolenza,
non accetta quiete chi ha sempre corso dentro la tensione
non ha valori se non la ripercussione.

Reagisco a oltranza sui tempi morti del pregiudizio
reagisco a oltranza, mi accanisco.

Questi sono i miei nervi
e non li adeguerò mai
un gioco ridotto a due mosse
aggredire o evitare
ma lasciar perdere oggi
è solo farsi calpestare
torno all'ultima sequenza
ti affronto.

[NERVES AT WAR]

Impact of nerves
that never lets up
eating away inside me
but highlighting what you are
a glass window after years of ice
you never know what day it can collapse
nor how deeply it can scar...
From here no memory is clear or free of suffering
in counterphase against the pace of your indolence,
not accepting the quiet of someone who has always run inside tension
with no values except repercussion.

I react to the bitter end against the dead times of prejudice
I react to the bitter end, I persecute.

These are my nerves
and I'll never change them
a game cut to two moves
attack or avoid
but let it go today
it's just getting trampled on
I'll go back to the last sequence
I'll face up to you.


Ancora una volta
lasci che decida un altro
ricadi sugli stessi schemi
corpo inerte
una frase ad effetto
seguita da risate afflitte
tutto qui.

Nella solita foto a fianco a chi conta
sei l'intruso sbiadito
di nuovo apparenza - mai te stesso
non hai intento né radici
quale solco puoi aver tracciato

Ti dissolvi nell'inconsistenza
coltivi passioni in cui non riesci a credere
spossato da dipendenze mai affrontate.
C'è chi si scorda della tua simpatia di ripiego
alla prova con l'impatto del tempo
conti quanto spazzatura indifferenziata

Hai guardato dietro una tenda
che per quelli come te non doveva esistere
e hai preferito restare ibernato.

Ancora una volta
lasci che ci pensi un altro
ripieghi sulla prossima moda
sguardo neutro
deriso dalle tue sconfitte.

[NEUTRAL LOOK]
One more time
you let someone else decide
falling into the same patterns
body inert
words for effect
followed by tormented laughter
that's all.

In the usual photo next to the big shot
you're the faded outsider
all for show – never yourself
you have no intent or roots
you may have dug out a rut

You dissolve in inconsistency
cultivate passions you can't believe in
exhausted by addictions never resolved.
Some people forget about your rebound sympathy
put to the test with the impact of time
you count about as much as unsorted garbage

You looked behind a curtain
that for those like you shouldn't have existed
and you preferred to stay hibernated.

One more time
let someone else worry about it
fall back on the next trend
eyes neutral
mocked by your defeats.


Schiavo della condivisione
[BURIED ALIVE]
  Slave of sharing


Predisposto ad intossicarsi di ferite nel subconscio
[WORRISOME BALANCE]
  Inclined to get high on wounds in the subconscious


L'unicità dei dettagli su un'espressione martoriata
innalza l'adorazione per chi si sottomette alla rinuncia

[WHICH PATHS]
The uniqueness of the details on a battered expression
raises adoration for those who submit to retreat




- DISPLASIA GOVERNATIVA
Chi è contro chi.

- L'ASSENSO NON HA VOCE
Una qualsiasi rappresentazione di apatia, satura - nebbiosa – provinciale.

- LA PAGINA CHE SOPPRIME
Sostenuti dai delitti che disegnavano nella foschia.

- FINZIONE SOVRANA
Alla radice di un furto pubblico imperniato sulla lentezza
si confonde la spontaneità dell'obbedienza più infelice.

- LEGAMI IMPERSONALI
Tecniche di strangolamento individuale.

- SGOMBERO DI FERITI
Dalle trame più subdole dell'inverno
spalancati alla logica che li anima.

- UOMINI NON CRONACHE DI COMPASSIONE
Arso vivo a fiamma ossidrica come sanzione per quel taglio malinconico.

- IL GUSTO DI ALLORA
Nel raccontarsi, nelle dipendenze,
nell'afferrare paradossi e rimetterli in riga.
Il gusto di allora spiega quanta fantasia
è deflussa da chi è nato a giochi fatti.

- PERIFERICHE
Tratteggiare l'istante della separazione
minando le responsabilità di ruolo.

- IMPARA A MORIRE
Estetica di concentramento – eroi della depressione
impara a morire senza personalità.

- PERCEPIRE OGNI ESPEDIENTE
Copia e incolla di lineamenti appagati
su un sudario sanguinante di disperazione.

- RIDOTTO-GENTE-LARVE
Quando la solita urgenza ad esternare
si congiunge a quello che non ti arriva più al cuore.

- IL TRIONFO DEGLI INUTILI
La vostra condotta si riduce a una striscia.

- TRAFFICO SUGGESTIONATO
Resti di cantieri implosi su una dominazione benestante.

- AVANZO O SCARTO
Chi è rinchiuso non fa distinzioni.

- TORMENTO A RAPIDA EVOLUZIONE
Lavoro per ottimizzare la qualità della vita residua.

- ALLUCINAZIONI DI MASSA
Campionario di squallore normale.

- VITA DA CONTROFIGURA
Accantonata.

- INTRAMURALE
Ha ancora molto da dirti, dilaniato da semplici commenti.

[DEATHS FROM UNKNOWN CAUSES]

- GOVERNMENTAL DYSPLASIA
Who is against whom.

- ASSENT HAS NO VOICE
Any representation of apathy, saturated – misty – provincial.

- THE PAGE THAT SUPPRESSES
Supported by the crimes they drew in the mist.

- SOVEREIGN PRETENCE
The root of a public theft hinged on slowness
confused with the spontaneity of hopeless submission.

- IMPERSONAL TIES
Individual strangulation techniques.

- CLEARING OUT THE WOUNDED
From the most devious plots of winter
thrown wide open to the logic driving them.

- MEN NOT NEWS OF COMPASSION
Burned alive with a blowtorch as punishment for that melancholy cut.

- THE TASTE OF TIMES GONE BY
Talking about it, in addictions,
in grasping paradoxes and putting them back in line.
The taste of times gones by explains how much fantasy
has flowed out of those born after the dice are cast.

- PERIPHERAL
Outline the instant of separation
undermining the responsibilities of role.

- LEARN TO DIE
Aesthetics of concentration – heroes of depression
learn to die without character.
- PERCEIVE EVERY EXPEDIENT
Copy and paste of satisfied features
on a bloody shroud of despair.

- REDUCED-PEOPLE-LARVAE
When the usual urgency to speak out
couples with what no longer gets to your heart.

- THE TRIUMPH OF THE USELESS
Your conduct is cut down to a strip.

- IMPRESSED TRAFFIC
Remains of building sites imploded on affluent nomination.

- SURPLUS OR SCRAP
When you're locked you don't make distinctions.

- RAPID EVOLUTION TORMENT
Work to optimize the quality of life that's left.

- MASS HALLUCINATIONS
Samples of normal squalor.

- LIFE AS A STAND-IN
Set aside.

- INTRAMURAL
He still has a lot to tell you, ripped apart by simple comments.


Di fronte ai tuoi limiti
accogli nel buio
un male silente
che divora dall'interno
ed è già irreversibile
se la prima striscia di sangue
si coagula in paura.
Non lo comprendi
dai margine al guardiano
che ti ha sempre bloccato..
la solitudine allo specchio
evidenzia quello che sei.

La dose che tolleri ogni giorno
significa restare in controllo
non guardare il nemico negli occhi
strisciargli appresso da servo umiliato.

Se passi in difesa qualsiasi sbaglio ti incombe addosso,
presenze altalenanti che non ti hanno mai ascoltato
consuetudini che sminuiscono il tuo tempo..
Quando quello che ingerisci si altera in veleno
sei tu a dare il verso al rasoio che impugni
e determinare la tinta dei sogni che ti aspettano.

Vorrei insegnarti a gridare
verso lo stesso muro a sfinimento
finché quello che una volta ci tornava indietro
non sorpassi le barriere che oscurano il cielo.
Gridare allo stesso muro
finché l'urlo non torni più indietro.

[RELAPSES]

Faced with your limits
in the dark you welcome
a silent evil
that devours from within
and it's already irreversible
if the first streak of blood
coagulates in fear.
You don't understand it
you give room to the keeper
who has always stopped you...
Solitude in the mirror
spotlights what you are.

The dose you tolerate every day
means staying in control
not looking at the enemy in the eye
crawling behind him like a humiliated servant.

If you get defensive any mistake looms over you,
altering presences that have never listened to you
habits that diminish your time...
When what you ingest is altered in poison
it's you who gives the direction to the razor that you hold
and decide the hue of dreams awaiting you.

I want to teach you to shout
at the same wall, until you drop,
until what once came back to us
passes the barriers that darken the sky.
Shouting at the same wall
until the scream no longer comes back.




[Per chi non ha più un figlio vivo ma aspetta in piedi fino all'ultimo tendine spezzato]

Quanto sai scuoterti da dentro
in un abisso che sommerge ogni speranza
ripartire dalle macerie più lontane..
cosa riesci a discernere tra rumori assordanti
Guarda che fine fa chi ha paura di morire
sempre in sospeso, sempre insoddisfatto
prendilo da esempio, lanciati in contromano

Sono sogni che hai abbracciato
ma non puoi tornare indietro
perché non li rivedrai mai.. (x2)
basta il ricordo di quanto sappiamo costruire
per riportarci in linea d'attacco all'infinito
si chiama immortalità all'indietro
qui la volontà è ancorata alle fondamenta
e il primo grado è mai bruciare per qualcun altro.

C'è un posto dove ci rivedremo ancora per parlare di cosa ci ha abbattuto così
se il peso di fattori esterni o il deterioramento dei nostri punti deboli
è il posto dove ci affronteremo all'infinito come amici temprati dalla morte
[resta con me]
qui dove l'aria trattiene ogni istante
[nel mare interno]
di quello che sappiamo trasmettere
[resta con me]
qui dove l'onda sfida la roccia
con la determinazione di quando piegavamo ogni sguardo

RESTA CON ME
NEL MARE INTERNO

Se lo attraversi di notte
da ogni flutto riecheggia la supremazia del nostro astio
contro chi prende la vita per come viene
chi ripiega sulle apparenze
Spiriti guida mai caratteri soggiogati
spiriti guida mai sconfitte incassate
spiriti guida per radere al suolo terre riconquistate.

[CRUSADERS OF AN INNER SEA]
 
[If you no longer have a child alive but you wait up until the last tendon shatters]
How much can you rouse yourself
in an abyss that sinks all hope
starting from the furthest rubble…
what can you spot with all the deafening noise
Look what happened to those afraid to die
always undecided, always dissatisfied
take it as an example, cast from the wrong side of the road

They're dreams you embraced
but you can't go back
because you'll never see them again... (x2)
Just the memory of how much we can build
takes us back forever to the line of attack
it's called immortality backwards
here will is anchored to foundations
and the first step is never to burn for someone else.

There's a place where we'll meet again to talk about what has hit us so hard
the weight of external factors or maybe the decline of our weak points
is the place where we'll face endlessly as friends tempered by death
[stay with me]
here where the air grasps every moment
[in the inner sea]
of what we know how to transmit
[stay with me]
here where the waves defy the rock
with the determination of when we used to beat down every glance

STAY WITH ME
IN THE INNER SEA

If you cross at night
every surging wave echoes the power of our rage
against who takes life as it comes
who falls back on appearances
Guiding spirits, never beaten characters
guiding spirits, never defeated
guiding spirits razing reconquered lands to the ground.