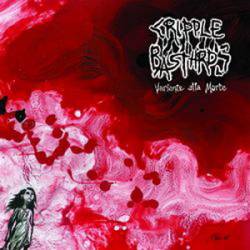 LINE-UP:

Giulio the Bastard - vocals
Schintu the Wretched - bass
Der Kommissar - guitar
Al Mazzotti - drums

Recorded and mixed by Fredrik Nordström and Henrik Udd at Studio Fredman - Hyssna (Sweden) in March 2008 mastered by Peter In De Betou / Tailor Maid Production - Spånga (Sweden) in April 2008.
> CD version on FETO Records/UK, FETO 0014, 2000 copies.
> LP pressing on Deep Six Records, DeepSix # 94 - still no info available on the number of copies pressed, more editions planned in the next months (Power It Up, Peculio etc).
> CD comes in a wonderful packaging that consists of a foldout poster bent in many parts, including all the lyrics.
> LP comes in a full-color gatefold cover + inner-sleeve with lyrics printed on both sides. The first 50 copies of the LP had no print on the record's circle labels and were all hand-drawed and numbered by Giulio the Bastard, entirely sold throughout 3 CB shows in Italy with Brutal Truth...
CREDITS:
> Artwork by Mario "Majo" Rossi (Dampyr).
> Design, layout and art direction by Nicola "SStnz" Fornasari.
> Photo by Valeria De Giorgi.
> Opening harsh-noise sequence on "Self zeroing" by BASTARD NOISE (Wood / Wiese)
Variante Alla Morte
1. Faccia da contenitore
2. Variante alla morte
3. Pedinati
4. Allergie da contatto
5. Insofferenza
6. Lo sfregio e le sue ombre
7. Inverno nel ghetto
8. Spirito di ritorsione
9. L'uomo dietro al vetro opaco
10. Sorriso decubitale
11. Stimolo chimico
12. Cedimento strutturale
13. Sangue chiama
14. Implacabile verso il suo buio
15. Stupro e addio
16. Confessionale in b/n
17. Marchio catastale
18. Gli anni che non ritornano
19. Karma del riscatto
20. Regredito a che punto
21. Falsificato ideale
22. Sottoposti al taglio
23. Conquista dell'isolamento
24. Autoazzeramento
The longly awaited 4th full-length album by Italy's most hateful and aggressive Grindcore unit ever, terrorizing the masses since 1988. 24 tracks of solid fast Grind/Hatecore with a huge dose of thrash, hyper-varied vocals and annilhating blastcore bursts. Released by Shane Embury's FETO Records/UK and recorded in Sweden at Fredman Studios (At the Gates, Opeth, Arch Enemy, Dimmu Borgir, The Haunted, Driller Killer, Skitsystem + tons more) this 31 minute hammer-in-the-face is a total guarantee of pure CB ultraviolence backed by a powerful production, with no doubt the best CB ever had. The absolute album to celebrate 20 years of Cripple Bastards! Here's one of the first reviews the album got outside of Italy: "for nearly two decades Italian grindcore merchants Cripple Bastards have been on the scene. With three full lengths, a double DVD and 30 splits to their name they are no strangers to anyone vaguely familiar with the underground. Now Feto Records - the label headed up by Napalm Death's Shane Embury and Anaal Nathrakh's Mick Kenney - is releasing their new album "Variante Alla Morte". With comparisons to grindcore legends Napalm Death (pre-"Fear Emptiness Despair"), Agathocles, Phobia and second wave genre acts like Gadget, Nasum or Regurgitate this Italian quartet merges the best of the genre's earlier outfits with its current modern day purveyors.

Combining the genre's hardcore punk roots with modern day grindcore "Variante Alla Morte" is a testament to the strong will of these Italian stalwarts. The punk/hardcore influence comes mostly from Giulio's angry streetwise shouts, screams and barks. True to form the material on this record is short, compact and relishes in delivering a quick one-two punch to its listeners through the combination of catchy short and few longer tracks. While sung entirely in Italian, Cripple Bastards deal with topical socio-critical issues and not the horror and gore that is associated with the genre these days. Recorded at the highly regarded Studio Fredman in Hyssna, Sweden with Frederik Nordström (Arch Enemy, Dark Tranquillity, In Flames) handling the mix "Variante Alla Morte" comes with the expected high end production job. The guitars are brick heavy in their crunchiness while remaining clear, the bass thunders audibly in the back and the drums sound very well produced.

"Variante Alla Morte" is definitely one of the strongest grindcore albums on the scene today. Be sure to check it out."