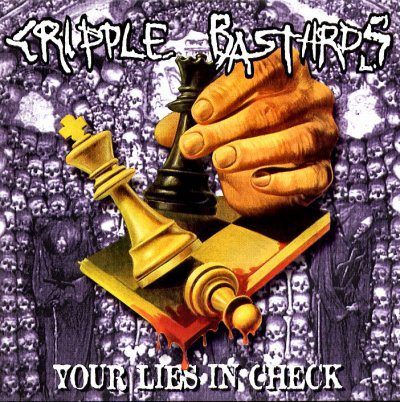 LINE-UP:

Giulio the Bastard – vocals, lyrics
Alberto The Crippler – Guitar
Eduardo "o" Brazil – bass
Michele Hoffman – drums

Recorded in 1995 at Acqualuce Studios, Alpignano/Torino, sound engineer: Marco Milanesio
> LP on Ecocentric Rec., E.R. # 141, released in 1996, 1500 copies made //
CD on E.U.'91 Produzioni (E.U.015), 3500 copies made // MC on Dwie Strony Medalu, no cat. # mentioned, released in 1999, 500 (?) copies //
> the LP came in a gatefold cover and had a A3 band-poster enclosed, the CD had 16 page booklet, the MC had a huge printed cover with lyrics both in English and Polish...
Your Lies In Check
1. Being ripped off
2. Without a shadow of justice
3. Prejudices & walls
4. Images of war / Images of pain
5. Imposed mortification
6. Prospettive limitate
7. Intelligence means...
8. Disagreeable selections
9. Caught in your silence
10. Prisons
11. Irenic
12. September, 18th 1993
13. A dispetto della discrezione
14. Watching through my chaos
15. Newscast slave
16. Round table
17. Italia di merda
18. The outside world
19. My mind invades
20. Danas je dan ze lijecine
21. More frustations
22. Stimmung
23. Ghiacciaio
24. What I thought
25. Negative fractures
26. Ratings
27. Paranoiac
28. Frightened / Neglected
29. 1974
30. Milicija die!!
31. Walk away
32. Nichilismo ampliato
33. Vital dreams
34. Blue penguins
35. Bond of enmity
36. Ragman
37. Windows
38. Rending aphtous fevers
39. Bane
40. Living monuments
41. War spoils
42. We can work it out
43. Self-justice Punks
44. Incorporated grave
45. D.S.S.
46. Sexis society ... must destroy it!
47. The last shipwrecked
48. Intransigent simpathy
49. Polizia, una razza da estinguere
50. Cormorant
51. Life in general
52. Hydrophobic web
53. Padroni
54. Useful / Useless
55. More restrictions. Why?
56. Miniaturized Eden
57. Something wrong
58. 21st Century schizoid man
59. Devozioni?
60. Nothing on earth
61. Invito alla riservatezza
62. Come é falso dio
63. Radije volim...
64. S.L.U.T.S.
65. Grimcorpses
66. Offensive death
67. My serenity
68. Dealing with a pressing problem
69. Necrospore
YOUR LIES IN CHECK
(introductive statement)

Blood on a draughtboard, your king about to collapse under my furious fist... Too many years left as food for indifference, children grown with humilations and brutalization therapies, already men destined to vent reactions on themseves. Structures and structures... burn eyes - bar hopes. Waste products... they self-destruct, as if to avenge for the emptiness inside. Yesterday I was a surrogate, not a man. A surrogate lost in the labyrinth of too many institutions. An absorbed echo, not a voice. I've learnt to watch you, to go through compulsions. I've learnt to eat your shit... to calculate your moves. I've learnt to sit on the other side of the table, to exhaust your resources. Yesterday I was a pawn... I was a pawn in a game, a slave in a factory, a cross in a cemetery, a fix in a vein, a minor role in your play. Yesterday a pawn in a game. Today a butcher, and a winner... finally pleased - eyes on my blade disfiguring your smile wiping out corruption, injustices, oppressive hierarchies. Scanning your lies I found insecurities. Scanning your lies I recognized my condition. Scanning your lies I attacked your weak spots. Scanning your lies I got your defeat.


With no shadow of doubt a milestone in italian Grind/Hardcore and an important release also if seen from an international view. Over 5000 copies sold if you sum up the LP + CD + MC versions around, and more to come in the future. A proof of this album's notoriety in the scene is the many successful shows all around Europe and tracks like "Italia di merda", "Prospettive limitate" + "Stimmung" becoming hymns, expecially in countries like Czech Republic. And 90% of the songs covered on "Falafel Grind" (tribute to CB) are taken from this. "Your lies in check" was the perfect link between CB's extreme Grindcore experience and the strong influence coming from '80s italian Punk/Hardcore. 69 tracks that left a trace in the scene. This was a sort of "dream to come true" for GTB and Alberto the Crippler... and it was backed by an enormous strain. The drummer Michele Hoffman was about to leave the band so it wasn't that easy to get him for rehearsing. The bass-player Eduardo (from Mina Gerais, Brasil) was working non-stop in Torino and had no time for coming to Asti. The 5 months prior the beginning of the recordings saw GTB and ATC sharing their free time between Torino - teaching the songs to Eduardo (which didn't know any of them yet), and Asti - revising the drum parts with Michele. It would take too much to explain how this worked out but it looked like a Rocky getting trained for an impossible match story, sometimes we were about to give up since it looked almost impossible to keep all parts together. Michele and Eduardo met themselves 3-4 times in life, just to let you understand how this worked. By the way, E.U.'91 did the CD version - coming with a 16 page booklet. The CD sold over 3000 copies and it's going to be re-released by CAH Records/USA. The gatefold LP version came out on Ecocentric Records, while the MC was done by a Polish label. A must, backed by passion and faith.