Cripple Bastards – "Age of Vandalism"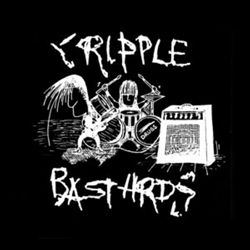 release date:
2009
~ Deluxe 4 x digipack boxset including 5 booklets for a total of 90 pages, including liner notes and extensive interviews with the legendary 1987-1993 duo: Alberto the Crippler and Giulio the Bastard. 
~ This release gives you a solid overview on the roots of a band that has been active for over 20 years now , estabilishing a solid and personal way to grind. CRIPPLE BASTARDS today is with no doubt Italy's prime Grindcore outfit, backed by a huge discography (4 albums and tons of Ep's/splits/all formats of vinyl etc), touring and sharing stages with legends like NAPALM DEATH, BRUJERIA, BRUTAL TRUTH + tons more. 
share:
LABEL: SELFMADE RECORDS
TRACKLIST:
A deluxe digipack boxset featuring remastered versions of ALL the Cripple Bastards' tapes released from 1988 to 1993 plus an incredible amount of unreleased tunes drawing the complete history of the Bastards on tape.
This will include the four official demos, the split 7" with Violent Headache session (with extra unreleased tracks!), the whole 1988-1991 collection, all side projects, and basically HOURS of unreleased noise including pre-Cripple Bastards thrash from 1986! A jump back to the late 1980s/early 1990s ultra-DIY noisecore spirit made of tape traders, cult labels like TNT & Records and Psychomania, and ear-damaging bands releasing zillions of tracks on terrific lo-fi demos, not giving a damn about studio productions and "I can't hear the snare"-type pedant asses. 1,036 SONGS IN TOTAL—YOU ARE WARNED!
USA's Decibel Mag gave it 9/10 and reviewed it as it follows:

The Age Of Vandalism box set compiles the output of Italian grindcore act Cripple Bastards from 1987 to 1993. It spreads 1,036 songs across four lavish digipacks. Can you imagine MP3-tagging that sonofabitch? Luckily, a CD can only hold 99 tracks, so the box set bunches up wads of songs into tracks. Ergo, track titles like "94 song demo, Nov. 1992" and "Side B of 'From 88 to 91' collection tape (281 songs!)"
But this isn't just "You Suffer" for hours. Sure, it's a rush to hear micro-songs fly by. But this collection of filth is surprisingly compelling. Much of it comes from when Cripple Bastards were a two-piece. When teenage delinquents Giulio the Bastard and Alberto the Crippler weren't terrorizing their hometown of Asti with vandalism, they were vomiting their frustrations on tape. Grunts, screams, blast beats, Italian horror movie samples, even a show bootlegged by cassette 'from the back of the audience' – it's a hell of a mudbath.
The liner notes are even better: a booklet for each digipak, plus a big, thick one for the set. They include essays, flyers, historical photos, demo tape artwork and incredibly soulful, thoughtful interviews. Age of Vandalism is really a giant audiovisual zine tat documents the early history of Italian grindcore. Cripple Bastards are a bona fide band now; they construct music, and they do it well. But back then they deconstructed their existence with tape recorders, Xerox machines and even an axe. This box set is their amazing legacy. (Cosmo Lee)
QUOTES:
~ "Italy's CRIPPLE BASTARDS write the best very short songs. We're talking of songs with two or three chords, maybe a chord change, possibly a riff" (Decibel Magazine) Early C.B. is considered one of the key bands that helped defining the micro-song "Noisecore"-"Noise/Grind" style in the late '80s and early '90s along with SORE THROAT, ANAL CUNT, 7 MINUTES OF NAUSEA, STENCH OF CORPSE and few more. Their split 7″ with VIOLENT HEADACHE (here included with a bunch of unreleased songs from the same session) is considered one of the fiercest, rawest and most anti-musical expressions of the whole genre, part of it appeared on Sanctuary Records' "Grind your mind – A history of Grindcore", classic anthological v/a CD with Repulsion, Napalm Death, Nasum, Terrorizer, Extreme Noise Terror and other classic noise mongers.
~ The most complete and exhaustive collection of CB's demotapes, early side-projects and pre-CB footage, live sets and tons of unreleased material, all edited from the original cassettes and mastered under supervision of the original band members.