Cripple Bastards – "Almost Human"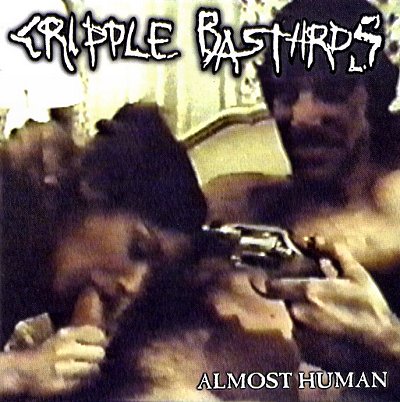 LINE-UP:

too many to be listed here, check the "additional artworks/inserts" section for more details.
Label: Obscene Productions

includes stuff recoded from 1997 to 2000. The CD has been mastered at Acqualuce Studios, Alpignano/Torino, by Marco Milanesio
> Released in 2001, OBP 039, 3000 (or more?) copies made
> Comes with a 24 page booklet including lyrics, EP covers, infos and a huge gallery of gig-flyers
Back of the booklet & Front-cover art for the Aussie edition that never came out ——————-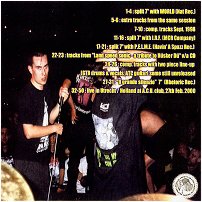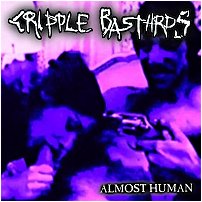 TRACKLIST

Split 7″ W/ World (Nat Records)
1. Pete The Ripper
2. Negativity
3. I Wonder Who the Real Cannibals Are
4. I Dare You
Extra tracks from the same session
5. Ring The Curtain Down
6. Guerra E Pecador (Brigada De Odio)
Compilation Tracks September '98
7. Cleaning My Ass With Zips & Chains
8. Il Sentimento Non È Amore
9. Insuppressible Revenge
10. Sbocco Nichilista
Split 7″ W/ I.R.F. (MCR Company)
11. I Hate Her
12. Get Out And Bite Them
13. Mondo Plastico
14. Fuck Politics, Let's Riot (The Scroungers)
15. Always Unsatisfied
16. Jesus & His Crabs
Split 7″ W/ P.E.L.M.E. (Havin' A Spazz Records)
17. Odium Prevalis
18. Sexual Hysteria
19. Jurisdictions
20. Incurableness Of A Junkified Nation
21. Dawn Of Ecology
2 tracks from "Land Speed Sonic – a tribute to HÜSKER DÜ" v/a CD
22. Punch Drunk (Hüsker Dü)
23. The Girl Who Lives On Heaven Hill (Hüsker Dü)
Comp. tracks '97 with two piece line-up (GTB – drums & vocals // ATC – guitar)
24. Strejt Edž (Tri Debela Praseta) / Standing Strong
25. No Way / Il Tuo Amico Morto
26. Haunting My Worst Sleeps
Il Grande Silenzio 7″ (Rhetoric Records)
27. Morte Da Tossico
28. Il Grande Silenzio
29. Quasi Donna… Femminista
30. Misantropo A Senso Unico
31. Conclusione
Live In Utrecht/Holland at A.C.U. Club, 27/2/2000
32. Misantropo A Senso Unico
33. I Hate Her
34. Me & Her In A Microcosm Of Torture
35. Italia di Merda
36. Il Sentimento Non È Amore
37. Idiots Think Slowe
38. September, 18th 1993
39. Prospettive Limitate
40. The Mushroom Diarrhoea
41. Hazardous Waste (Negative-FX)
42. Polizia, Una Razza Da Estinguere
43. Bomb "La Scintilla"
44. S.L.U.T.S.
45. Fuck Politics, Let's Riot (The Scroungers)
46. Lotta Per Il Potere (Kollettivo)
47. Jurisdictions
48. Inside Out
49. A Dispetto Della Discrezione
50. Stimmung
Every CB fan knows this is simply a must. A collection of all our studio works from 1997 to 1999 (split 7″s with P.E.L.M.E. + I.R.F. + WORLD + "Il grande silenzio" ep + comp. tracks) and a good quality live recording (Utrecht/Holland, "A.C.U." Club, 27/2/2000) at the end. 50 tracks tracing the history of CB through 4 years of constant line-up changes, problems, hopes, disillusions… But this CD's notoriety doesn't lay just in the musical contents. "Almost human" has been the source of many international "scandals" due to its crude, merciless front-cover art. The choice of using such an explicit concept came from GTB (with Curby/Obscene's approval) after viewing a movie called "Forced entry" – the story of a Viet-vet affected by psychosexual compulsions driving him to rape and murder defenceless women. Watching the infamous blowjob scene GTB and Curby agreed this was something never seen before and despite the consequences it would have brought, it had to be used as the cover of an extreme band as CB. It had to be an experiment to see how would have the scene reacted to such a thing.Here's anyway how GTB explained the relation between title and blowjob pic: "the basic idea was human insensivity, the progressive decay of feelings and emotions in modern man's ethics, in few words.. the loss of humanity of humans in the contemporary world, sentimental decay becoming a norm, a standard imposed from above thru medias, education, sexual inputs we get thru TV, ads, stratification of society. The title "Almost human" gives a sense to that cover art. It's a portrait of human degradation, the "almost human" status is the modern man's current condition, a parallel world of insensivity gradually replacing what according to us was our real nature and identity of human beings. If someone reads the CB lyrics one by one he/she'll certainly get a clear idea of what it's all about and will certainly figure out that the cover of our CD is obviously NOT meant to inspire rape, sexual control or sexism of any form. CB is just a band expressing negativity without taking a specific political stance. The "Almost human" CD is all about giving a portrait of human degradation, insensibility, feelings and naturalness being castrated by a hallucinating reality of abuse, indifference, resignation".
The facts: Cripple Bastards have been disallowed to play at ABC No Rio in NYC due to this CD cover becoz the kids running that venue didn't get any message and thought it was a mere expression of machoism and rape. Besides this, CB have been often labelled as an ignorant, sexist outfit and banned from tons of places, boycotted and stabbed in the back by the whole @punk community that years before used to repute them as an example of correctness. Viewing things from a distance, today – we can simply say that the "Almost human" CD has been a good idiocy- detector and somehow helped us to get rid of a huge part of that scene doing witchhunt against anything differing from the list of rules they need to conform to be coerhent and "socially aware". In few words: those who were so stupid not to catch the message – they simply turned their backs, those who really understood what CB is all about – they went on following what we do. "Almost human" has also been banned in Australia. A label that wanted to put it out on the Aussie teritory refused to take it after viewing the cover. The guy told he didn't want to be boycotted by the local PC cops, so he kindly refused. Same story happened with a South American label, that added some alternative excuses. Another gossip related to the blowjob cover: it seems that the boss of the factory where the booklets have been printed used this CD as an example of obscene artwork that should be avoided forever, we heard he had a copy of it on his desk and showed it to anybody trying to get any kind of extreme cover done there. He told that "Almost human" was printed and delivered out of his knowledge… so if you own a copy in your collection, be aware that maybe in 5-10 years, there will be no chance anymore to get such a thing manifactured anywhere… who knows.