Cripple Bastards – "Best Crimes"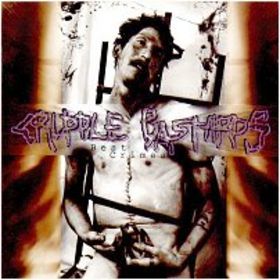 LINE-UP:

[1993-94 singles]
Giulio the Bastard – vocals
Alberto the Crippler – guitar
Michele – drums
[older Demo recordings]
GTB – drums + vocals
ATC – guitar

> released in 1996, GTA 022, 1500 copies made out of 2 prints.
> comes with a 16 page booklet including tons of photos/statements + people from the scene reviewing CB

Back of the booklet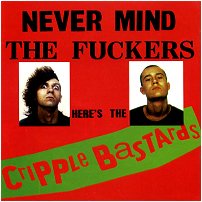 OVERVIEW
Made at Michele's practice room + tons of extra stuff taken from older tapes. The 6 tracks off the "Proud people suck" session are nothing else but the Dissonance's side of the CB / KSG / Dissonance 3 Way, we thought to include'em here becoz most of them had been later "covered" by CB, so we can say that Dissonance was kinda absorbed into CB. Other trax where taken from the "1988 to 1991" tape and from a "1992 to 1994" sampler we never put out. The rarest shit on this CD was anyway the song off the "Use your voice" comp. + the unreleased 25 song Demo 1989 that was the session we decided to do after first hearing RAPT on the Final Blast split 7″… so figure out how we wanted to sound!!
Check the long statement taken from the CD booklet for further explanations on this release. Grand Theft Audio was one of our fave CD labels of those times due to their awesome re-issues of '80s Hardcore classics like Agnostic Front, Adrenalin O.D., Teervet Kädet, Rattus, Inferno, Zyklome A, Raw Power + tons more…. it was a honour to see CB among bands that had inspired us for an eternity.
INTRODUCTIVE QUOTE TAKEN FROM THE CD BOOKLET
CRIPPLE BASTARDS – "Best crimes"
102 screaming-loud Punk Rock stabs goin' from 1988 to 1994

– "Life's built on thoughts" EP (recorded in 1993)
– Split EP with PATARENI (recorded in 1993)
– Split EP with PSYCHOTIC NOISE (recorded in 1994)
– Split EP with SENSELESS APOCALYPSE (recorded in 1994)
– 1 song taken from "Use your voice" Comp. (1994)
– 6 songs taken from "Punk's not music" Tape (recorded in 1994)
– Reh. session '94 recorded with camera for "Revenge of the disabled II" Videocomp.
– 6 songs taken from "Proud people suck" Reh./Promo-tape 1991
– Total filth/audio-puke sessions goin' from 1988 to 1991, taken from different tapes.
– Unreleased 25 song Demo recorded in Asti (1989)
– More audio-puke '88-'92.
– 2 songs with drum machine.
People smiling – inside disgusted hating me, the infected.
On the way back home from a grey boring day spent nowhere under the rain, I start to rack my brain and find out what to write about the CRIPPLE BASTARDS. Most of those looking for this CD will probably expect some notes about our story, our ideas, the discography and so on. But is it enough to give an idea of what we are, why are we doing this, where + why did we start sucha thing and why are we still keeping it alive???? Is it enough? NO.
CRIPPLE BASTARDS can't be portrayed with a simple impersonal biography… Maybe I should leave this page empty and let you listen to the CD. 74 minutes of distortion, screams, rage, low-fi violence. 74 minutes packed with noise. But is there any sense… what are the feelings behind, what do C.B. want to express through all this chaos?? As I walk up and down the streets of Asti, I think about millions and millions of things. C.B. is in the air, falling down with the rain. I feel it on my face, flowing slowly like a bored warm tear. I see it painted on the flaky walls impending over my little body. C.B. is the opposite of this town. This town is a miniaturized world made of ignorance, conformity, prejudices. C.B. is free like the rain, and every drop hides a dream, a disillusion, a conquest, a stab in the heart. Flashbacks. Frustrations.

Today I'm quiet, nerves are relaxed. But if I close my eyes for a while and let the past explode on the black screen behind my lids…the feeling is the same like raising the face from a bag full of glue, or like holding on to a high-voltage wire. Harsh,exciting,terribly clear,painful. And this past is not gone, my future could be a photocopy of it. The only certainty is that my life will always be negative. C.B. is the mirror of this negativity, the concrete expression of our frustrations. As I quicken my step on this wet and dirty ground, I see that there's no hope to describe it in the proper way. All the emotions inside are just like the rain-drops, you can't catch them all. Maybe these few statements are already enough to help you and make you feel some of these drops running through your veins. Maybe you'll never understand and this CD will be a lifeless piece of plastic destined to increase your boredom…. And this is the story you'd want to hear: here's a collective release featuring some of the most significant C.B. recordings going from March 1988 to September 1994.

All songs have been re-mastered from the original tapes. No one of these sessions has been recorded in a professional Studio, it's all self-produced D.I.Y. noise. Filthy amps + shit-quality equipment, broken instruments, no place where to practice, just the worst dogholes of the town (when lucky). This is the C.B. reality and what you can hear on this CD. We're not musicians and we have no money. The first time we managed to enter a studio was only 5 years after forming the band, but this is another story. Unlike nearly all our releases, here you won't find any song-lyrics/texts, we thought to include only photos and personal considerations, and leave a free space for reviews + C.B. friends adding some nice notes. This is a good way to show a different side of ourselves and give free course to your imagination.
The essential members on this CD are:
Giulio the Bastard, Alberto the Crippler and Michele,
that left the band in May 1995.
During the years we've got a lot of people lined-up,
but no one of them deserves to be mentioned.
TRACKLIST
"Life's built on thoughts" EP (1993):
1-S.L.U.T.S. 2-Living monuments 3-Radije volim… 4-Offensive death 5-0:01 6-Bonds of enmity 7-Miniaturized Eden 8-Prisons 9-The opinion of the poor 10-Stimmung 11-Imposed mortification 12-Vital dreams 13-More frustrations 14-Falling wish 15-My serenity/dealing with a pressing problem.

split EP with PATARENI (recorded in 1993 – released in 1994):

1-Life in general 2-Disagreeable selections 3-21st Century schizoid man 4-Hydrophobic web 5-Mass media 6-Grimcorpses

split EP with PSYCHOTIC NOISE (recorded in 1993 – released in 1995):

1-Intelligence means… 2-Devozioni?   3-The outside world 4-September, 18th 1993 5-Ratings 6-Bonds of enmity 7-Padroni 8-Without a shadow of justice 9-Nothing on Earth

split EP with SENSELESS APOCALYPSE (recorded in 1994 – released in 1994):

1-Images of war / Images of pain 2-My mind invades 3-Blue penguins 4-Italia di merda 5-Self-justice punx 6-Peasants 7-1974 8-Something wrong 9-Walk away 10-Ragman

1 song taken from "Use your voice" Comp. (1994):
1-Nazi dad

Good sound Reh. meant to be released on vinyl (1994):

1-Prospettive limitate 2-Sexual hysteria 3-Danas je dan za lijencine 
4-September, 18th 1993 5-Milicija die!! 6-Prejudices & walls

Reh. session recorded with camera for the "Revenge of the disabled II" Comp.:

1-Sept. 18th, 1993 2-Italia di merda 3-Mass media 4-Padroni 5-Ragman

6 songs taken from "Proud people suck" Reh./promo-tape 1991:

1-Intro/Milicija die!! 2-T.L.O.H. 3-Dissonance 4-Through sincerity comes security 5-Vital dreams 6-My serenity



Total audio-trash rehearsals goin' from '88 to '91, released on different tapes:

1-Paranoiac 2-Grimcorpses 3-School system 4-Life in general 5-T.L.O.H. 6-The new sight 7-Conditioned to accept 8-Standing strong 9-Your emotions

Unreleased 25 song Demo recorded in Asti (1989):

1-Useful/Useless 2-The last shipwrecked 3-My knife when you less expect it 4-Sick of pleasure 5-Deoxidized brain 6-No serenity 7-Researchman 8-P.S.O.T. 9-They justify war 10-Eliminated fool 11-Progress on dead masses 12-Curse the void 13-Something wrong 14-Incurableness of astigmatization 15-Active grind 16-Miniaturized Eden 17-Far from my best friends 18-What can be awaked 19-No more… 20-Prisons 21-Misunderstanding of "equality" 22-Irenic 23-Without a shadow of justice 24-I.C. 25-Repression famine (7 Minutes Of Nausea)

More audio-trash '88/'92:

1-Always unsatisfied 2-Progress on dead masses 3-Too rich to live 4-Vital dreams 5-Dissonance 6-Through sincerity comes security 7-Grimcorpses '88 8-Stimmung

2 songs with drum-machine:

1-More restrictions. Why? 2-Miniaturized Eden