Cripple Bastards / C.H.C. / Total Fucking Destruction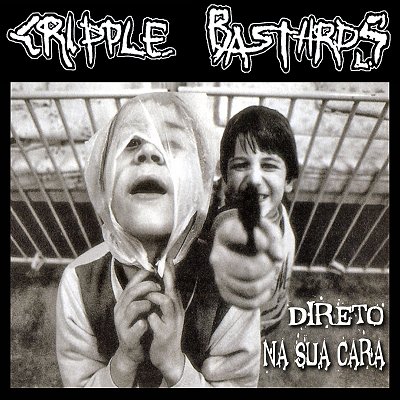 LINE-UP:

Giulio the Bastard – vocals
Schintu the Wretched – bass
Der Kommissar – guitar
Al Mazzotti – drums

Label: Mutilation Records

OVERVIEW
3 WAY CD – Including the almost complete CB live set from GTB's birthday festival in Torino/El Paso. The sound quality is raw but decent for a live recording;
the songs' selection goes through the earlier hits to stuff taken from "Misantropo a senso unico" and "Desperately insensitive" (not recorded yet by the time this show happened).
The outstanding features of this release are mainly the
special appearance of Michele Hoffman grinding on a couple trax
(6 years after his departure from CB) and the speed of the whole set, which is ways faster than the studio versions. Once more, CB are hosted at El Paso for a memorable event; the remarkable point is that this place has been in good relationships with us since ever and despite their being highly politically active it never came to an argument vs our nihilistic attitude. This CD was originally supposed to be done by CHC's own label, but then things failed and passed to another brazilian label, Mutilation Records. Mainly a collector's item.
> Released in 2003, MUT 043, 1000 (?) copies made.
> Comes with a 3 square folded booklet with bands' infos.
> Recorded live @ "El Paso occupato", Torino/Italy, 15/12/2001.
> Michele Hoffman – guest on drums (songs ** 21,22).
TRACKLIST
1. Intro / Being Ripped Off
2. I Wonder Who The Real Cannibals Are
3. Get Out And Bite Them
4. Il Tuo Amico Morto
5. S.L.U.T.S.
6. Polizia, Una Razza Da Estinguere
7. When Immunities Fall
8. Jurisdictions
9. Prospettive Limitate
10. I Hate Her
11. Desperately Insensitive (Justice For Serbia)
12. Misantropo A Senso Unico
13. Authority? + Asti Punks
14. Sexist Society
15. The Mushroom Diarrhoea
16. Bomb ABC No Rio
17. Images Of War / Images Of Pain
18. 1974
19. Inside Out
20. Peso Inutile
21. Radije Volim**
22. Padroni**