Cripple Bastards / Eyehategod 7″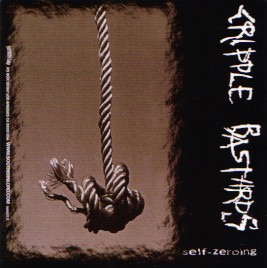 release date:
Spring 2004
share:
LINE-UP:

Giulio the Bastard – vocals
Schintu the Wretched – bass
Der Kommissar – guitar
Al Mazzotti – drums

Label: Southern Lord Records

TRACKLIST:
CB's longest song ever composed, lasting around 6 minutes with its slow-paced introductive part and the ending harsh noise assault where CB and Bastard Noise melt together in a gigantic wall of sonic deflagration.
This was the band's last session to date made at Nadir Studios with Tommy Talamanca. The EP got sold out very fast, even the latter re-issue. It shows a newer CB way to grind which is a lot more worked + solid and matches perfectly the huge dose of negativity and violence Eyehategod unleash on the flipside with their unreleased track "I am the Gestapo" ..and even being atypical to the average Southern Lord outputs it ends fitting greatly.
> Released in 2004, Sunn # 31.5, 1500 (or 2000?) copies made out of 2 different pressings, few hundreds on colored wax (transparent green and red on the 1st pressing, marble violet on the 2nd).
> Comes with a 2 sided cover jacket w/ lyrics inside, no inserts.
> Ending harsh-noise onslaught made by Eric Wood and John Wiese (BASTARD NOISE).
> Recorded, mixed and mastered in Sept. 2003 at Nadir Studios, Genova / Italy Sound engineer: Tommy Talamanca.
LYRICS:
Another long day / just dropping our time /
heads bowed – cottonwool turning us blind
Another long day / dumb party to your crimes
– the burden presses even if we crawl
Another long day / accepting a hideous price
– skilled hands stifling our cries…
Years gone to satisfy whims of others we're tired, exhausted,
channelled through anxiety's dead-ends.
Your increasing for further
gains………………………………………………………………..
as repetitiveness tramples on our talent >> anteroom to the darkest existential nonsense.
DUMB PARTY TO YOUR CRIMES
JUST DROPPING OUR TIME
COTTONWOOL TURNING US BLIND
"you think you'll do it soon soon, maybe even tomorrow… perhaps you'll have the nerve
it's all in your hands – strength will return but maybe it's better to hold on.
twenty, twenty-five years / twenty, twenty-seven years / twenty, twenty-nine years
strength will return but maybe it's better to hold on" (Luca Abort, RIP)
dreams are over, collapsing into a sordid chasm
where vital souls are ageing terribly.
PROSTRATED BY SCHEMES
FANCY'S MELTED AWAY
DRAINING AN IMMENSE CRY
LIFE FATED TO DRAIN – efforts driving nowhere /
GREY OCEANS' VOID – the shade of our boredom
LIFE FATED TO DRAIN – actions turned into functions /
GREY OCEANS' VOID – detached in depression
a mask soldered on-face, tears fermenting beneath,
this mechanical regularity I'll never fit [in/out]
screwed by a waste-dependence role.
Your urges of expansion… always fed by a circle of fools.
Goin' on to breathe a sense of instability /
"non-affordable" >> the norm, "resignation" >> its backbone
how can we run so beyond self-esteem
where's the value of strain in a production-labyrinth
transfiguring every trace of individuality??
Knelt down to a dimension of easily replaceable tesserae
immured to eternity in a made-to-measure cast
born in automatic misery, social crisis the excuse
YOU HAVE NO GUTS FOR DESPISING AND CHANGING
SETTLED IN CONVENTIONALITY, A PROGRAMMED FATE BASED ON MONOTONY.
REFLECTIONS OF FAILURE, "A JOB LIKE MANY OTHERS"…..
I'LL NEVER TOLERATE TO WATCH MYSELF DYING AFTER 40 YEARS ROTTING.