Tribute To Cripple Bastards – "Falafel grind"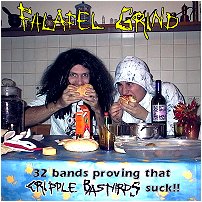 release date:
2000
NOTES:
>> released in 2000, OBP 033, 3000 copies made.
>> comes with a 20 page booklet.
>> extra interactive part with 4 CB videos, discography, photo-gallery and infos.
>> compiled from 1995 to 1999, mastered in 1999 at Acqualuce studios, Alpignano/Torino, by Marco Milanesio
>> interactive CDR part + booklet graphics created by Chymus / Isacaarum
share:
LABEL: OBSCENE PROD.
TRACKLIST:
1) GROINCHURN (South Africa) "Being ripped off"
2) BIRDFLESH (Sweden) "Prospettive limitate"
3) ACROHOLIA (Yugoslavia) "0:01" / "Milicija die!" / "The Outside World"
4) HYPO-CHRISTIANS (USA) "Life in general"
5) DEMISOR (Singapore) "My mind invades" / "Ragman"
6) GRIDE (Czech Rep.) "I hate her"
7) DENAK (Spain) "Radije volim.."
8) HATEBOX (Italy) "Italia di merda"
9) FINAL EXIT (Japan) "21st century schizoid..!?#!!?" / "Padroni" / "Authority?"
10) MINDLOCK (Czech Rep.) "Polizia, una razza da estinguere" / "Prospettive limitate"
11) STRONG INTENTION (USA) "Prisons" / "Round table"
12) ARTURO (Italy) "1974"
13) ROT (Brazil) "Watching through my chaos"
14) INFECTIOUS OUTBREAK (South Africa) "Bonds of enmity" / "S.L.U.T.S."
15) MAGNETRON (Holland) "Hydrophobic web"
16) TOTAL FUCKING DESTRUCTION (USA) "Grimcorpses"
17) MRTVA BUDOUCNOST (Czech Rep.) "Stimmung"
18) ENTROPIA (Italy) "T.L.O.H."
19) BLOODSUCKERS (Belgium) "Ratings"
20) SMASH THE BRAIN (Japan) "Vital dreams"
21) NY AGAINST THE BELZEBU (Brazil) "Images of war – Images of pain" /
"S.L.U.T.S."
22) CARCASS GRINDER (Japan) "Prospettive limitate"
23) HARSH (Finland) "Intelligence means…"
24) RUIDO DE ODIO (Ecuador) "Bonds of enmity" / "S.L.U.T.S."
25) THE BUTTPLUGZ (Australia) "Stimmung"
26) ORCHID (USA) "September, 18th 1993"
27) INTENSE MUSICAL MASTICATION (Brazil) "Disagreeable selections"
28) REGENERACION (Mexico) "Italia de mierda"
29) OPEN YOUR MIND (Brazil) "Paranoiac"
30) HATED PRINCIPLES (USA) "0:01" / "I dare you"
31) ROVINA (Italy) "Watching through my chaos"
32) PARENTAL ADVISORY "Prospettive limitate" / "Grimcorpses"
33) GIULIO THE BASTARD & AMANDA LEAR "Blood and honey".
OVERVIEW:
This came out from a common idea of GTB and Alberto the Crippler after receiving shitloads of diy demos including Cripple Bastards' covers.
We started to make a selection of the best ones and after talking to Curby/Obscene, the project of a celebrative comp. found its way. This compilation has been really successful and we still agree on saying that most bands featured played the songs better than CB themselves.
The extra interactive part included stuff from our older website + 4 video shots (Obscene Extreme 1999, Padova "2 days of struggle" 1996, Udine "Treblinka" 1998 and GTB + ATC unplugged doing a joke-song called "Psichiatria"). A funny thing is the legendary bonus track ("Blood and honey") that consists of a late '70s Amanda Lear disco-hit with grind style grunts added by GTB. It came out well becoz the deep, masculine Amanda's voice was kinda in tune with GTB's growling.. Curby told that this track has been on a Czech top-ten (among bands like Korn, Strawberries etc!) for months and got an incredible popularity in his country. Today it's still the most shared CB track on condivision programs like Kazaa, DC++ and similars. CB used it as intro during their performance at OEF 2000, getting a lot of people dancing just like in a huge disco-hall. "Falafel Grind" is quite an outstanding release pointing out a fun-side of CB which is quite distant from the feel of our records/mentality; it's mainly the trace of our celebration to the first decade of existence and of the influence certain songs left all over the under-grind scene.