Cripple Bastards / I.R.F. 7″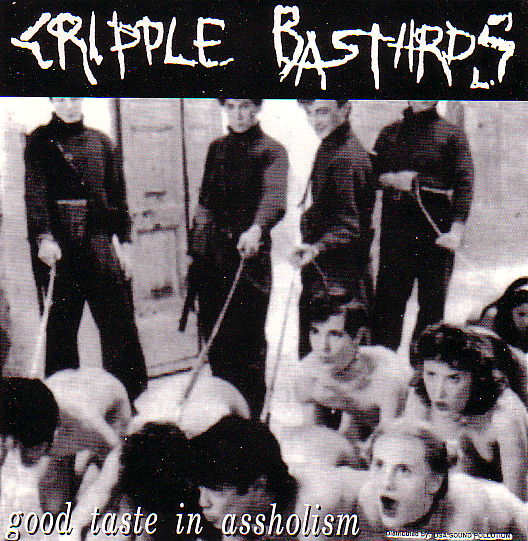 release date:
Spring 1998
share:
LINE-UP:

Giulio the Bastard – vocals
Alberto the Crippler – guitar
Gigi Pacino – bass
Walter Dr. Tomas – drums

Label: MCR Records

TRACKLIST
1. I Hate Her
2. Get Out And Bite Them
3. Mondo Plastico
4. Fuck Politics, Let's Riot (The Scroungers)
5. Always Unsatisfied
6. Jesus And His Crabs
CB once more with a new line-up: Walter Dr. Tomas on drums (coming from the band Acredine > ex Indigesti and today playing in the popular ska-punk act called Shandon) and Gigi Pacino (before CB in Free the Four, after CB in DDI…: blurp!).
This was the 1st studio session with them and it came out greatly. We were moving to a more fast HC styled Grindcore taking inspiration from No Comment, early DRI and similars. The 6 tracks here stand as some of our absolute faves in the whole CB discography. Lyricswise, CB were moving from the socially aware themes of the mid '90s outputs to the pure misanthropic behaviour that caracterized all what came later. MCR from Japan was a label we loved due to the many good releases + we were proud of the fact we had many split releases with cool Japanese bands… Senseless Apocalypse, Carcass Grinder, IRF.. later World… real jams of extremism and unrelenting Grindcore.
> released in 1998, MCR # 119, 1000 copies. no re-presses, no ltd editions, no colored wax
> 1 insert with bands' lyrics/infos
> recorded and mixed at Acqualuce Studio, July/August '97 by Frankie Ribbera (Marco Milanesio)
LYRICS
I look in her eyes, I see the walls of this city – I HATE HER
socially dominant, a female corpse kept alive by rules – I HATE HER
avid, spoilt, majesty in a little puddle of piss – I HATE HER
blocks our freedom with asphalt, infects our blood with morals – I HATE HER
She went to the butcher's
and bought 2 Kg of blood-stenching meat
I HATE HER
She attended mass
and bought God's mercy: "charity & love"
I HATE HER
She voted for a moralist dick,
"to suffocate all immigrants in their own pitful shit"
I HATE HER
She came back home
and taught her sons to abhor those like me
I HATE HER
Consume your shameful dinner,
then drug your brain with TV-fix – I HATE HER
do the slut with your husband,
somebody said "frequent sex = rejuvenate" – I HATE HER
take the children to school,
be sure to grow them strong, proud and blind as shit – I HATE HER
support ghettoisation…
your race's "sense of property" to banish minorities – I HATE HER
P.S.: "I condemn this crowd of she-normals. They limitate my freedom"
 



Don't reach an understanding
… their shit-smelling words,
bare your teeth, push the right way
GET OUT AND BITE THEM (x2)
I won't submissively care,
no need to reinstate myself
no chance to lock up my nerves
GET OUT AND BITE THEM (x2)
I won't submissively care,
people – their habits, their shame…
"Can't stay inside their laws"
GET OUT AND BITE THEM (x3)
My eyes – burn with revenge
 



COMMENTARY:
Ready-made world /
flashy colours suiting your scent of well-bred type,
exhibition object in a kaleidoscopic outlook /
ready-made in a drama school promising
"certain, full resolution of your problems related
to shyness and insecurity, with undisputed advantage
in public relations" / advantage, advantage over the others,
more cunts to fuck – more fools to rob. /
Drug me with your amusing talks,
sodomize me with attractive smiles /
Here's the easy prey – a wretch left out of the feast. /
Ready-made world, ready-made world
all over things we can't afford… we can't afford. /
– we can't afford to be happy, to trust, share, tolerate /
– we can't afford to be fair… money prevents, money determines /
– we can't afford not to grow up frustrated…
just think about medias, "education"…
multitude of brains infatuated with lies /
– we can't afford to be ourselves,
desperately insensitive (1)
spontaneity died away (3)
tastes became insipid (2) /
Ready-made world – invisible needles pierced into optic nerves.
No doubt on what to choose, everything fits your taste… /
Tourists channeled through clean shiny avenues, expecting to see the best,
to waste money and life leaving piles of shit on their backs /
..and when everything fits, cash flows – hectic. /
The impeccable efficiency of a civilised nation
seasoning millions of dishes with cancer,
exploiting those you'll never know,
concealing misery like dust under a carpet,
banishing anything a "normal" may rate ugly or unpleasant. /
Outside the toyland winter is perpetual,
children's lips freeze in depression and solitude. /
Ancient tears run down through wrinkles of apathy,
then soak into deserted quarters ..to reflect cathodic plagues. /
Melody is wiped out by cacophonous screeches,
blowing like a sick wind – unnaturally loud. /
Detachment increases, compassion rots away in perdition.
Exasperated… urge to find an unconscious prey.
THIS REALITY – parade of degradation
THIS SOCIETY – endless procession of abortions


& other arguments for violence
We've listened to you, you gave us your views /
we've heard every word that you said /
we've had it with you, and when we are through /
you'll wish we where better off dead /
HIT US HARD WHEN THEY DECLARED CLASS WAR /
PEOPLE PUSHED AROUND WON'T HOLD BACK ANYMORE /
ALL YOUR RHETORIC WON'T KEEP US QUIET /
FUCK YOUR POLITICS, WE WANT A RIOT!! /
You've fucked us around, you've let us right down /
sold us out to our enemy /
we're taking control, we're smashing this hole /
we'll do anything to be free /
HIT US HARD WHEN THEY DECLARED CLASS WAR /
PEOPLE PUSHED AROUND WON'T HOLD BACK ANYMORE /
ALL YOUR RHETORIC WON'T KEEP US QUIET /
FUCK YOUR POLITICS, WE WANT A RIOT!! /
Won't negotiate, but will desecrate /
everything the state calls holy /
we'll smash it all in, we want to kick in /
all that the bastards degree /
HIT US HARD WHEN THEY DECLARED CLASS WAR /
PEOPLE PUSHED AROUND WON'T HOLD BACK ANYMORE /
ALL YOUR RHETORIC WON'T KEEP US QUIET /
FUCK YOUR POLITICS, WE WANT A RIOT!! /
 



Always unsatisfied,
left empty handed, we can't close the cycle
the crowd went away – they need no answers anymore
impassive like the pain which starved our most basic goals
the only thing we care about is not to trust anyone.
WE'RE ALWAYS UNSATISFIED – WE DON'T GIVE A FUCK
ALL PEOPLE AROUND US ARE POTENTIAL ENEMIES
THERE'S NO PRIDE TO DEFEND … NOTHING TO LOSE
Sensations turned into far cold memories,
all the enthusiasm drifted out to your "social nowhere"
UNSATISFIED
UNREQUITED
UNGRATIFIED
BUT STILL UNRESIGNED
 



Level a gun at my eyes,
smash this hopeless face,
rigorism and shame must grow
burying an outdated race…
We are discarded meal, we are sinners,
we corrupt and taint,
every word we left hides germs,
morally we're worse than criminals,
no conscience can deviate our merciless aims,
we split families – we obstruct progress,
our depravity harms good people's faiths,
(2) Jesus for president, always in the right:
"social laws are immaculate",
(1) survival and salvation =
privileges for those who work and prey.