Cripple Bastards – "Life's Built On Thoughts" 7″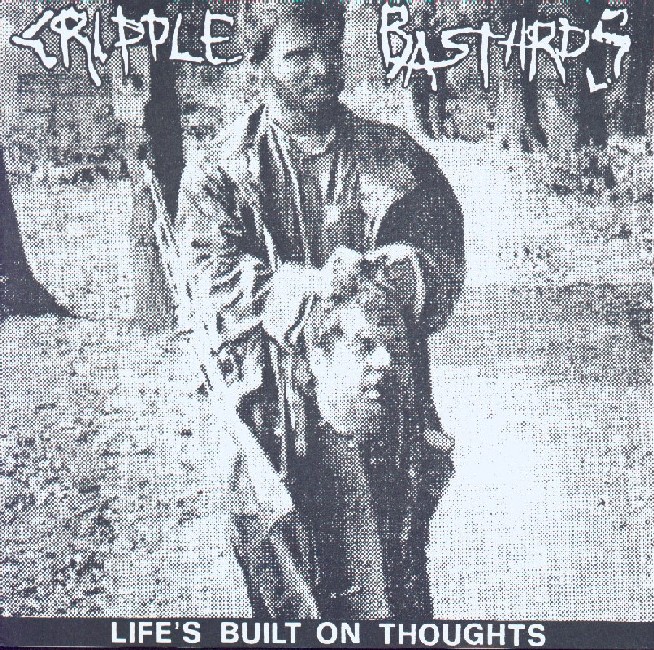 LINE-UP:

Giulio the Bastard – vocals
Alberto the Crippler – guitar
Michele Hoffman – drums

Label: A-Wat Records

Recorded in 1993
> Released in late 1993, no cat. # mentioned, 1000 copies made out of 2 different pressings. no ltd editions on colored wax.
> The 1st pressing (500 copies) has "LIFES" instead of "LIFE' S" written on the front cover and has a 1-sided b/w insert with lyrics + the flyer of a studio for graphic design enclosed // the 2nd pressing (500 copies) has the front cover title written correctly and includes a different lyric-sheet printed on both sides.
TRACKLIST
1. S.L.U.T.S.
2. Living Monuments
3. Radije Volim…
4. Offensive Death
5. 0:01
6. Bonds Of Enmity
7. Miniaturized Eden
8. Prisons
9. The Opinion Of The Poor
10. Stimmung
11. Imposed Mortification
12. Vital Dreams
13. More Frustations
14. Falling Wish
15. My Serenity – Dealing With A Pressing Problem
A milestone of lo-fi diy Grindcore. In positive or negative, nothing sounds like this. Chris Dodge reviewed it as reported:
"This Italian outfit is the ultimate personification of unadulterated rage. 16 bursts of primitive angst. Raw, uncompromising hatred is seething from the cracks of every track. For example, the lyrics to S.L.U.T.S. – read: South Leads Us To Shit (then no lyrics just vocalized hatred)! Is that awesome or what? Musically, it's homespun, basement Punk that explodes into unpredictable bursts of pure, trillion-m.p.h. Noise. For those who remember first hearing the SOLGER 7″ in the early '80s, this is a '90s version of that experience; a combined feeling of "what the fuck?" and"hey, this is cool."
Recorded at Michele Hoffman's practice-room placing few mikes next to drums & guitar/vocals thru a mixer connected to a good cassette deck… the guitar onslaught created by passing ATC's excess of distortion-pedals thru the mixer (with no amp) gave birth to a unique home-made feel never equaled by others and peculiar to many CB records of that period.The style was a cross between Grind/Fastcore and italian '82 filth-punk at its rawest form. Front cover photo shows a Bosniac mujahideen holding the decapitated head of a Serbian soldier, once again to point out the horrors of the atrocious war afflicting GTB's beloved country.