Cripple Bastards / Looking for an answer 6″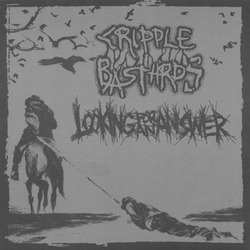 share:
LABEL: RESCUED FROM LIFE RECORDS
SPLIT 6″:
CB's side includes 2 completely unreleased songs recorded in 2003 between "Desperately insensitive" and the split EP with Eyehategod. Hyper-speeded covers of IMPULSE MANSLAUGHTER and NEGATIVE FX, where Cripple Bastards managed to crossover their peculiar Hate/Grind assault with 80s fast HC influences. On the flipside 2 covers as well (NAPALM DEATH and RUIDO DE RABIA), delivered by Looking For An Answer. Released in black and white 6″ vinyl.
LINE-UP:
Giulio the Bastard – vocals
Schintu the Wretched – bass
Der Kommissar – guitar
Al Mazzotti – drums
TRACLIST:
1. Cripple Bastards – Crimes
2. Cripple Bastards – Hazardous Waste