Cripple Bastards / Mass Separation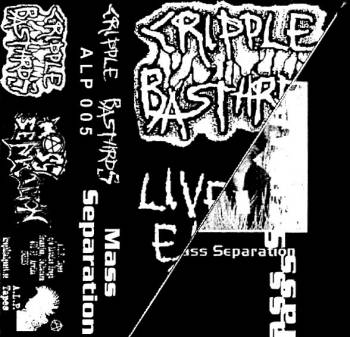 share:
LABEL: A.L.P. TAPES SWEDEN
TRACKLIST:
1- Prospettive limitate
2- Sexist society… must destroy it!
3- Mass media (Indigesti)
4- Polizia, una razza da estinguere
5- 1974
6- Authority?
7- Asti Punx
8- Images of war / Images of pain
9- September, 18th 1993
10- Spero venga la guerra (Wretched)
11- Italia di merda
12- Stimmung
LINE-UP:
Giulio the Bastard – vocals
Alberto the Crippler – guitar
Paolo Arturo – drums
Eduardo 'o' Brazil – bass
> Live in Torino (Italy), "El Paso Occupato", March 1996
OVERVIEW:
CB's side has 12 tracks recorded live @ El Paso, Torino (Italy), 1996 (out of the "Negativity" promo tape), and includes some of the most classic stuff from the "Your lies…" set + Wretched and Indigesti covers. Out on a Swedish label, xeroxed b/n cover, no info on how many copies around, even if we know the tape has been certainly re-issued different times, even as a CDR.