Cripple Bastards – "Massacrecore Live" 7″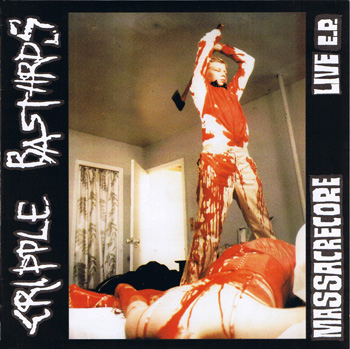 release date:
November 1997
share:
LINE-UP:

Giulio the Bastard – vocals
Alberto the Crippler – guitar
Eduardo 'o' Brazil – bass
Paolo Arturo – drums

Label: Denied A Custom Records

OVERVIEW
C.B. first official live vinyl. Includes stuff recorded in the short period we had Paolo from the band ARTURO on drums. Even if the quality is raw to the bone (mostly walkman recordings) this EP gives a good idea of the intensity CB had on stage in the mid '90s, and the songs selected were anthems of those years.. out of the "Your lies in check" album and "Frammenti di vita" all-cover 7″. "Massacrecore" is a highly collectable record due to the extreme feticism the label put onto packing it with tons of flyers/stickers (some had even handwritten parts)… if you got the green wax version complete of all inserts + stuff + sticker on the plastic bag, you have one of the rarest CB items around.
> Released in 1997, Custom # 4, 1000 copies pressed, 400 on transparent green wax (+ a red sticker on the plastic bag containing the record)
> Each pressing had a huge number of flyers, stickers (with handmade parts!) + a couple inserts about CB written half in Japanese half in English
> Songs 1-7 recorded live @ "El Paso" – Torino, 3-1996 // songs 8-9 recorded live @ "Prinz Eugen" – Torino, 3-1996 // songs 10-12 recorded live @ the "2 days of struggle" HC fest, Padova, April 1996
TRACKLIST
1. Prospettive Limitate
2. Sexist Society… Must Destroy It!
3. Mass Media (Indigesti)
4. Polizia, Una Razza Da Estinguere
5. 1974
6. Authority?
7. Asti Punx
8. Images Of War / Images Of Pain
9. September, 18th 1993
10. Spero Venga La Guerra (Wretched)
11. Italia Di Merda
12. Vital Dreams