Cripple Bastards / Nuclear grinder / Mastic scum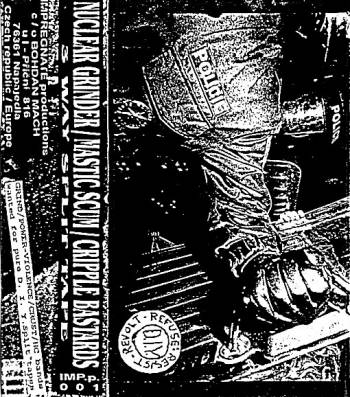 share:
LABEL: IMPREGNATE PRODUCTIONS
3 WAY TAPE TRACKLIST:
1- Being ripped off
2- Paranoiac
3- Radije volim…
4- Sexist society, must destroy it
5- Asti Punx
6- Vital dreams
> Songs 1,2,3 recorded live in Lubijana (Slovenia) – "Metelkova" open air fest 1997
> Song 4 recorded live in Udine (Italy) – "Treblinka" squat – September 1996
> Songs 5,6 recorded live in Torino (Italy) – "El Paso Occupato", March 1996

OVERVIEW:
A minor CB release featuring footage from the "Negativity"
promo-tape and "Live to hate people" 3″CD. Our part consists of
6 live tracks recorded in Slovenia, Udine (Ita) and Torino (Ita).
Comes with a xeroxed b/w cover,
out on a Czech label.