Cripple Bastards / P.E.L.M.E. / Urban Decay / The Dread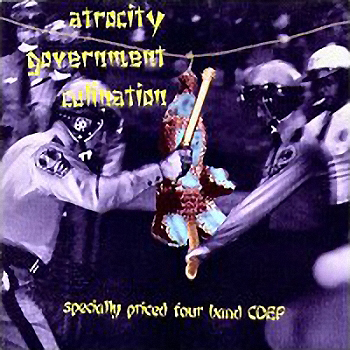 LINE-UP:

Giulio the Bastard – vocals
Alberto the Crippler – guitar
Paolo Arturo – drums

Label: GTA Records

recorded in 1997
4 WAY CD – TRACKLIST
1. Odium Prevalis
2. Sexual Hysteria
3. Jurisdictions
4. Punch Drunk (Hüsker Dü)
5. Incurableness Of A Junkified Nation
6. Dawn Of Ecology
this was originally planned to come out as a double 7″ but then turned into a specially priced CDEP due to the manifacturing costs. CB included the first and only studio session with Paolo Arturo on drums which consisted of 5 new songs + 2 x Hüsker Dü covers (for an all italian band Hüsker Dü tribute comp, 1 of the 2 not featured here)… This release was mainly thought for the US distribution, while the Euro edition of those trax (except the H.D. covers) came out later as split 7″ w/ PELME (PELME included different trax than those on this CD). Musically it's solid, aggressive Grind/Fastcore showing that even after being dismembered by radical line-up changes, the Bastards were still violence'n'cruelty at the most savage form.
> Released in 1997, GTA 031, 1000 copies printed.
> Comes with a 8 page booklet including lyrics/infos on the bands.
LYRICS


COMMENTARY:
Like a slap, contempt bends my eyes to the ground
obtrusion…
I can't tolerate life if the compromise is "love thy neighbour.."
and my place is a flat holed up in this grave you called town.
social integration…
isn't it like being cattle in the slaughterhouse
factories, banks, supermarkets,
"thy neighbour" infects the oxigene I breathe
churches, schools, car-parks,
what I see, hear and feel is always the opposite of what I need.
P.S.:
"Choose mediocrity be happy.
Choose happiness, be mediocre"


Sex is your key to open new doors,
the depth of your hidden degradation.
One of the few natural properties
you had left at your disposal,
and you made use of it in a so miserable way.
Sex is your passport for being considered "experienced"
deactivate the bomb – don't let your naturalness mature.
Fuck and accept to be fucked, your limits are defined.
SEXUAL HYSTERIA – SOCIAL AFFLUENCE
SEXUAL HYSTERIA – SOCIAL AFFLUENCE


Every sub-citizen's social obligation
is to fall in a meaningless breach,
then drag cross & nails in front of the jury,
be condemned and pay,
spit bowels till the last coin,
the last millilitre of blood. JURISDICTIONS
Available for being the exploitable…
we work to give back the mere shit that we've earned.
Registered at their court, a signature to a file,
we increase civil power
and demote basic rights. JURISDICTIONS
P.S.:
"money from social zeros like me and you"
the definite aim their justice stands for.


Originally written by HÜSKER DÜ,
lyrics featured on their "Everything falls apart" CD.



Stifling enthusiasm you dominate through TV-lies,
stealing fancy and hopes you support suicide.


INDIVIDUAL:
This morning I woke up so restless, coldly dumb,
recalling the night I knocked at your door
and heard a voice answering "nobody's in"
the feeling – a tangle of hands covering my head
I wished I had turned your light down
and tasted the pleasure of opening wounds,
cummed rage and freedom until you died.
"The ways I could kill you" is my favourite dream
"The ways I could kill you" is my favourite wish
swallow fragments of blades – melt in boiled oil,
the more you scream and suffer the more my eyes cry for joy.
UNIVERSAL:
This morning I woke up so different, tense,
wondering why my choice has always been convenience,
how could solitude be more oppressive
than cohabiting with a mass of goats;
the only frequency modulated for my brain is horror, 24 h. a day,
black labyrinths of sadism, malevolence and pain.
Human extinction is my highest hope,
a clean world for plants and animals,
a never-ending circle of cruelties for you,
and for all those who renounced freedom for this social shit.
COMMENTARY:
Fuck your illusive charity… "philanthropy"
clean the Earth with your own blood,
give place to nature and oxigene,
terminate the human race.
Ecology must be the only conscience driving us to………….