Cripple Bastards / Patareni 10″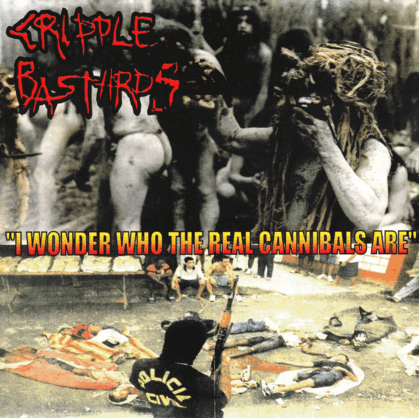 LINE-UP:

Songs # 1-6:
Giulio the Bastard – vocals
Alberto the Crippler – guitar
Michele Hoffman – drums
Songs # 7-10:
Giulio the Bastard – vocals
Alberto the Crippler – guitar
Paolo Arturo – drums
Eduardo 'o' Brazil – bass
Song # 11:
IMPACT + Giulio the Bastard guest on vocals
Label: Havin' A Spazz Records

Songs # 1-6 recorded at Michele's practice room in 1993, songs # 7-10 recorded live @ "BuBu7Te", Firenze, 18/11/1995, song # 11 recorded live @ "Leoncavallo", Milano, 23/9/1995
TRACKLIST:
1. Life In General
2. Disagreeable Selections
3. 21st Century Schizoid Man (King Crimson)
4. Hydrophobic Web
5. Mass Media (Indigesti)
6. Grimcorpses
7. Bane (live)
8. Polizia… Una Razza Da Estinguere (live)
9. My Mind Invades (live)
10. Prospettive Limitate (live)
11. La Vostra Violenza (live) (IMPACT + Giulio the Bastard)
The following quote taken from the record's insert is probably the best introduction: "This 10″ is the official re-edition (with extra trax) of the CRIPPLE BASTARDS / PATARENI Split 7″ released by Regurgitated Semen Records (Germany) few years ago. Both bands agreed to licence a re-issue, as there were many rumours about unauthorized repressings and people selling the original EP at excessive prices. The quality on this 10″ is certainly better: EP trax have been re-equalized/re-mastered… there's nearly 50% of bonus unreleased stuff x side…. the cover-art is totally new… the graphic effort is ways more complete and well-done… etc.
CB side: 6 trax taken from the original split 7″ recorded in Asti in 1993, remastered in Torino, 1996 / following 4 trax recorded live in Firenze, "Chaos Barrage fest" – squat "BuBu7Te", 18.11.1995 / last track recorded live at the IMPACT + RAW POWER night in Milano, "Leoncavallo", Sept. '95: IMPACT performed the old classic "La vostra violenza" with GTB special guest on vocals… a killer session!!!"
There's not that much to add. Some ltd. versions of this record have become issues for die-hard record collectors.
The huge article on the back of the insert was a story of police brutality happened at the birthday festival of a good old friend of GTB in Samobor, Croatia. Unfortunately there's no English translation of it, so here we're putting just the italian file we have.
> Released in 1996, no cat. # mentioned. 1500 copies, including ltd. editions in white, transparent blue, transparent green (?) wax. Less than 50 have been sent around with a wrongly printed cover-jacket made as a closed envelope, with different art on the back.
> 1 xeroxed A3 insert with band infos on one side and a long article (in italian) on the back. Few copies had an extra page inside (added by CB), with a statement about the diy scene in general.
LYRICS


Victims of society, victims of society,
you continue to pay – suffering without talk.
Existing to recycle superiors' will/thoughts.
Life in general.
Commentary:
Frantic crowds of suit and tie idiots,
and the sickening threat of being like them,
trapped into their aseptic models.
"Earnestness"
– something I can't call freedom… too rigid.
"Ratiocination"
…but where's a smile among those upset screens,
always standing on the same old picture: money.
Disagreeable selections:
– you die in comfortable emptiness /
– I live my tragic oddness, alone but free.


originally written by KING CRIMSON,
get their records and find the lyrics there
Commentary:
Invisible chip of emotions projected in the human sphere,
uncertainty or sadness are the only reactions of a fanciful mind;
Sense of perversion, aggressive hate…
stagnant feelings entangled in sinews.
My brain's wrapped by hydrophobic webs.
Your plastic existence will conduct it near the nervous breakdown.
My conformity would mean complete annihilation, mental blackout.
Suicide left as the ultimate act of freedom, escape. But no, not for you.
WHERE PEOPLE SEE A PROMISING FUTURE
I CAN ONLY DISCERN AN ENDLESS ABYSS.
(just a few parts of this commentary constitute the words in the song)


originally written by INDIGESTI,
check the lyrics on their "Sguardo realtà" CD


this one has no lyrics/words. GTB screams carelessly.
Voice can be an instrument too. "Grimcorpses" is the name
of our earlier band, back in 1987, when we were 13/15 years old

and we used to rehearse in a dusty room at the top of a gristmill.
This song belongs to those tragic/peaceful days.
 



(never edited before this website!
written by GTB & yugoslavian kids back in the '80s!)
Bane Mitevski, stize junaka iz Kumanovo.
Bane = frka, Bane = Kumanovo.
Bane nam je dao obecanije jednog dana
necu se tuci, necu piti
Isti dan prebijo je neki mladi Siptar
zbog limenku piva
i zavrsijo kod pandura!!
de si Bane, ima jos masu Siptara da gazis
Kumanovo, frka, osveta. Vrati se junak
vrati se nam stari drugar – nasa borba nema kraju
Bane = frka, Bane = Kumanovo.


Per quello che valgono le vostre azioni…
cicatrici sul cranio – ossa spezzate.
Non posso contare sulla vostra "difesa"
perché solo violenza é ciò che create.
Polizia, polizia…
razza da estinguere, razza da estinguere!!


Finding myself the connection,
the perfect key to interpret your lies.
My mind invades
Inventing an own private philosophy,
my brain selects nourishing thoughts.
My mind invades
A rabid dog breaks his chains – MY MIND INVADES
A rabid dog breaks his chains – MY MIND INVADES


Tu, porco egoista
incastrato nella noia dei tuoi piccoli valori,
ingrassato dal privilegio di essere schiavo,
preferisci esser scannato piuttosto che reagire.
E non pensi che qualcuno abbia diritto a vivere,
lontano dagli sporchi pregiudizi
di un infimo "proletario" merdoso come te.
Come lo vedi il tuo futuro??
Come lo vedi il tuo futuro??
É sempre rose e fiori per un inutile codardo
marcire dietro il ciclo sistematico
di una catena di montaggio?
Vivi per difendere un massacratissimo stipendio.
Muori con alle spalle il vuoto più completo.


originally written by IMPACT
check the lyrics on their "80-87" CD