Cripple Bastards / Patareni 7″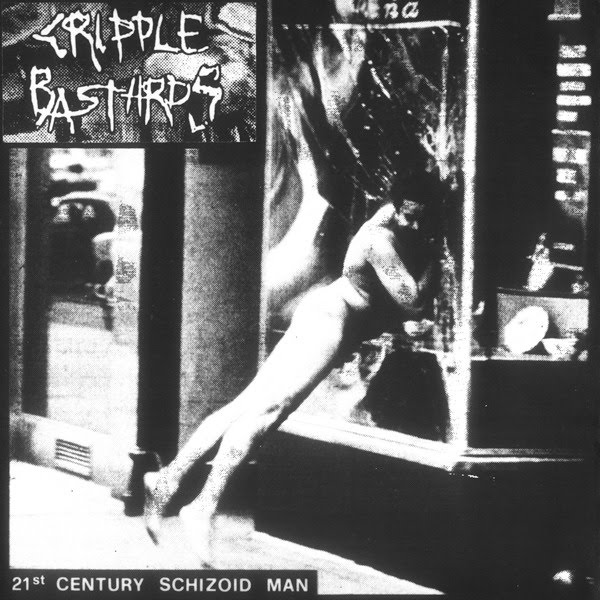 release date:
Spring 1994
share:
LINE-UP:

Giulio the Bastard – vocals
Alberto the Crippler – guitar
Michele Hoffman – drums

Label: Regurgitated Semen Records

recorded in 1993
> Released in spring 1994, RSR 004, 500 (?) copies on black wax, no re-presses.
Davor of PATARENI was saying that RSR printed at least 700 copies, but there's no proof at all
> 1 insert enclosed with bands' infos and a CB statement
TRACKLIST:
1. Life In General
2. Disagreeable Selections
3. 21st Century Schizoid Man (King Crimson)
4. Hydrophobic Web
5. Mass Media (Indigesti)
6. Grimcorpses
Following the same line of the "Life's built on thoughts" Ep (with a slightly better guitar sound, more pumped on the bass frequencies) this release was the consolidation of CB's new direction. A kinda genuine introduction to the musical content is the statement GTB wrote for the insert. Here it comes:
"Well, our side features 6 songs… the 3rd is an extremely distorted version of "21st Century schizoid man", one of my favourite KING CRIMSON's songs… The 5th one is the cover of a very old track, originally performed by a great Italian Punk/HC band called INDIGESTI, from their fantastic Split 7″ with WRETCHED (1981!!!). With these two covers, we want to pay homage to both bands for inspirating our sound during the years. The other 4 songs are taken from the early C.B. repertory ('88/'89)…we've just played'em in a more technical + "structured" way. OK, these 6 tracks were recorded back in September 1993 in our Rehearsal room, using some microphones and a good cassette deck… And also the other C.B. material released before this was recorded in a similar way. Personally,I think that the sound on this EP and on our previous releases is really OK…I mean,you can hear the drums, the vocals, the guitar in a quite clear way… WHAT THE FUCK YOU EXPECT MORE ??!?!??
This message goes out to all those people who have ever told us: "Yeah,your stuff is good… I like it. But why don't you get a good studio recording ?? It would be much more powerful, clear etc.,etc. …" Hey!!! Sometimes I ask to myself "Is it so fuckin' necessary to spend a lot of money in a professional studio when I can get a decent sound by my own using the stuff I got at my disposal ???" Personallly I really prefer the attitude of some old Punk/HC/Noisecore bands which used to record their stuff in a totally cheap/D.I.Y. way (live,Reh…) than what are these days doing a lot of Grind/Noise bands which don't release their stuff if they don't get a perfectly clear + powerful sound… Maybe these people have completely forgotten the real meaning of the word "NOISE". Personally, I really prefer the NOISE I can hear from the early WRETCHED 7″s, LÄRM Demos + 7″s, SEKUNDA Rehearsals, the FEAR OF GOD 12″, some MOB 47, VARAUS releases and also a lot of early PATARENI/BUKA records too than what I hear from a lot of current bands. If you expect a perfect 24-Track studio recording from the CRIPPLE BASTARDS….well…don't buy our records anymore. We'll always release the stuff we like with the sound we like,we're not interested in creating a product which can be easily sold and appreciated by the audience of the actual "NOISE" scene… So… FUCK YOU ALL!!!!!!!!!!!!"
Re-reading this today it sounds sincere in its juvenile behaviour, but if CB would have followed this rule forever, things would have been relegated to a stagnating standard with no steps forward. So few years later we contradicted ourselves starting to improve the production quality and getting out of the low-fi band status: what counts on a record is above all the intensity, and this comes from freshness and feelings. In 1994, CB's freshness had its perfect shape in this kind of recordings. Evolving our style and musical taste, this necessity changed following a natural process.
LYRICS


Victims of society, victims of society,
you continue to pay – suffering without talk.
Existing to recycle superiors' will/thoughts.
Life in general.
Commentary:
Frantic crowds of suit and tie idiots,
and the sickening threat of being like them,
trapped into their aseptic models.
"Earnestness"
– something I can't call freedom… too rigid.
"Ratiocination"
…but where's a smile among those upset screens,
always standing on the same old picture: money.
Disagreeable selections:
– you die in comfortable emptiness /
– I live my tragic oddness, alone but free.


originally written by KING CRIMSON,
get their records and find the lyrics there
Commentary:
Invisible chip of emotions projected in the human sphere,
uncertainty or sadness are the only reactions of a fanciful mind;
Sense of perversion, aggressive hate…
stagnant feelings entangled in sinews.
My brain's wrapped by hydrophobic webs.
Your plastic existence will conduct it near the nervous breakdown.
My conformity would mean complete annihilation, mental blackout.
Suicide left as the ultimate act of freedom, escape. But no, not for you.
WHERE PEOPLE SEE A PROMISING FUTURE
I CAN ONLY DISCERN AN ENDLESS ABYSS.
(just a few parts of this commentary constitute the words in the song)


originally written by INDIGESTI,
check the lyrics on their "Sguardo realtà" CD


this one has no lyrics/words. GTB screams carelessly.
Voice can be an instrument too. "Grimcorpses" is the name
of our earlier band, back in 1987, when we were 13/15 years old

and we used to rehearse in a dusty room at the top of a gristmill.
This song belongs to those tragic/peaceful days.