Cripple Bastards / Psychotic Noise 7″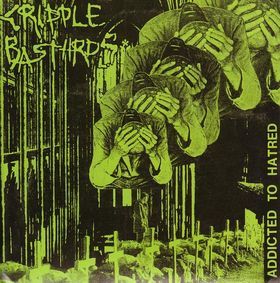 LINE-UP:

Giulio the Bastard – vocals
Alberto the Crippler – guitar
Michele Hoffman – drums
X-man – occasional backing vocals

Label: Grinding Madness
recorded in 1994
> released in 1995, GM 009, around 1000 copies pressed, all on black wax.
> a couple years later we got 50-60 extra copies with no cover/insert and sent them around in a special ultra-ltd xeroxed version, handnumbered.
> includes a huge CB insert and a A4 sheet for Psychotic Noise
TRACKLIST:
1. Intro
2. Intelligence Means…
3. Devozioni?
4. The Outside World
5. September, 18th 1993
6. Ratings
7. Bonds Of Enmity
8. Padroni
9. Without A Shadow Of Justice
10. Nothing On Earth
11. More Restrictions, Why? (Reh 1990)
With no doubt one of the most hateful, hysterical works in the whole CB discography.
Every track is a deadly stab of antimusical, hyperfast Grind/Thrash running at frantic speed. This is also one of GTB's fave singles ever. Recorded in Michele's practice room using the typical diy formula tested and improved through different previous records. ATC's guitar reaches unbelievable levels of compression and harshness. This Ep has been written in one of the darkest periods of the Bastards' private lives and fully reflects an asphyxiating sense of anguish + desperate negativity, both musically and lyricswise.The last song is taken from an old rehearsal out of a very short period when CB tried to introduce a drum-machine. More war in Bosnia footage on the front-cover art, an all time obsession for GTB.
As written on the insert:
– Addicted to hatred –
The word "love" can't keep its meaning. No, not here.
You can't enucleate my hate.
It's like a tumor during its progressive stages of evolution and actually you can't find a cell in my body spared by this furious disease.

NEVER MENTIONED
"See him die in your arms,watch his face as it fades away,
dries up,becomes an object…
His glassy eye – unsensitive,looks at you with indifference,amazement,
relaxed after the extreme pain,the moment of passing away."
I feel my life slowly die in your arms.
I see my story… A faded photo,
forgotten in the book of your most distant memories,
perhaps one day you'll find yourself face to face with it,
you'll dust it off and you'll justify,once again,all that you did.
Nothing more than a brick with which
you built your adult experience,"mature",
you climbed over my dead body to see your horizon,you used me.
Like a plastic bottle,only useful until it has been emptied.
A cigarette,that you hold in your hand until you see it consumed.
Day after day, pushing me away from your schemes,
I see my initial condition bloom again.
I see my head imprisoned in a hive of wasps;
I go back to the past,to the things said,discussed,observed…
Clasped to my frustrations – Stripped from your superfluous life.
You live in disgust,you are disgust. You ruined most of my best years…
deceiving me,living me off,using me as a a model
on which you tried out your "artistic" ability.
You, the actress.
Every sentence,every movement,
every kindness hid something miserable,false.
Your own appereance and way of life itself is a lie…
Slave to 1000 projects; started … never finished.
Victim of your untidiness,sorrounded by superficial passions…
Day after day,I see my defeat dissolve.
I see my revenge become concrete, printed on paper,
circulating in the hands of many,many people,
for the eyes of all the world that accuses selfish hypocrites like you.
Don't think I'll ever stop… I want to bend you,squash you,pulverize you.
While I shout and spit out hatred in front of hundreds of eyes,
I don't think of anything but you, your lies.
I see,once again,my image, sitting on the ground
thrashing about in blood,fear and sobs.
You'll never lose me … would be too easy.
LYRICS


Ignorance deleted interesting forms of rebellion.
But on the other side "strong" minds mangled our existences.
We can't refuse it; we must reach a sort of mental balance
which can give us the security
to use our own intelligence (if we really have it) without damaging our world.


Una vita di devozioni é quello che ti aspetti…
Non troverai nient'altro che merda sui tuoi denti.
Fammi lottare,lasciami stare,vattene via bastardo!
Una vita di devozioni é una vita di merda…
Senza lotta nessuno avrá un futuro!!


Dreaming behind a cold,insensible pane.
Suffering beyond the outside world.
Making plans,burning flags — my life against the outside world.
I think I'm dying for a right cause — I think we're dying for a right cause.
The Outside World.
18th… September… 1993… 18th… September… 1993…
18th… September… 1993… 18th… September… 1993…
WHO'S GOT THE 50 DM ON CHRISTMAS THIS YEAR?? (X 4)
(Then no lyrics, just vocalized hatred and insults)
Commentary:
Your nervous eyes in search of love
— always discontented, melancholic, bewildered.
Few minutes of pleasure and then…goodbye.
Your compensation is narrow, your effort inevitably pathetic.
September 18th,1993. The visionary freedom of a filthy stupid bitch…
Today charismatic heroine, tomorrow unwanted trash.
My life can't close itself in a hole,
can't vanish in the sad waiting list of those
who have lost before they've begun,
of those who haven't gone beyond the gates of an imposed normality.
Forced hatred, I wish I had never met you.
Tears of boredom,snapped nerves,instant horror.
I see my body move from one cage to another,
I spend my days cultivating apathy,disinterest,suffocated violence.
I feel offended and inoffensive,
a headstone stuck in cement – a broken candle.
Hanged in silence,the disappointment is reciprocal.
Kicks in the teeth, every single day,
explode in your houses,in your schools,in your streets…
A INCREASE OF "CULTURE",AN ABANDONMENT OF FEELINGS.
(Just few sentences taken from this passage constitute the lyrics of the song)
Commentary:
"When the human mind comes to a conclusion fundamentally just,
it keeps it, it stores it away and it definitely doesn't rub it out.
A person characterised by a strong ego ,a notable respect towards himself
and a spasmodic love of his own thoughts and intelligence,
becomes strongly aware of his condition in the "civilised" world.
We have always fought for the extreme glorification of the individual,
repudiating all the "duties" and "obligations" proposed / imposed from above.
But what does this "from above" mean,
who's this enemy that many have always hated
but have never been able to identify?? – – – – – – – – – – – – – – – – – – – – – – – – – – – –
How can we fight it/him?? – – – – – – – – – – – – – – – – – – – – – – – – – – – – – – –
Why must we accept with bowed heads what is called "life's sufferings",
without at least taking into consideration the fact that these weak chains can be broken? "
LOOKING FOR ALTERNATIVES,INVENTING ONE'S LIFE,
THIS MEANS LIVING.


Suffered characters engraved in my nerves.
Don't ask me the reason … Verify:
my conflict goes on, I assert my rights.
I ASSERT MY RIGHTS – Disconnection.
I ASSERT MY RIGHTS – Separation.
I ASSERT MY RIGHTS – Violation.
I ASSERT MY RIGHTS – Usurpation.


Una vita di lavoro,senza soddisfazioni
in mezzo a sporche macchine che distruggono il tuo corpo.
MORTE AI PADRONI – Ladri e bastardi.
MORTE AI PADRONI – Ladri e bastardi.
35 anni di furto legalizzato…
che bruciano i tuoi sogni,rendendoti impotente.
MORTE ALLO STATO – Mafioso e bugiardo.
MORTE ALLO STATO – Mafioso e bugiardo.
MORTE!!!


Yesterday I sat on this ground
waiting for a reconciliatory look.
I waited… in the hope of seeing it.
(But my optimistic enthusiasm was broken off…)
WITHOUT A SHADOW OF JUSTICE.
When someone will call down his revenge
upon these grey,living walls…
(…your "innocent" world will break down.)
I wait… in the hope of seeing him.
WITHOUT A SHADOW OF JUSTICE.


Commentary:
God is an imposition to justify the insecurities
of the people who feel most secure.
It's a lurid insult to human intelligence,
a shameful parody that has been going on for thousands of years.
THERE'S NOTHING ON EARTH,
NOTHING THAT COMES FROM HIS (ITS) HANDS.
God is an empty room,without walls or windows,
an abyss of illusions dug by people's ignorance.
God means waste,thousands of lives massacred,
mountains of money thrown away or stolen,
tons of bricks used to build his damned monuments…
THERE'S NOTHING ON EARTH,
NOTHING THAT COMES FROM HIS (ITS) HANDS.
Or perhaps,yes,there is something…
There's pain,intolerance,violence.
The dishonesty of those who represent him.
The only waters in which I can see its image reflected
are soaked with blood,fear,hatred.
(Just few sentences taken from this commentary
constitute the lyrics of the song)


A dark threat assaulting my life again,
time has come to wear a uniform and obey…
It's the worst phase of their systemized repression,
It's a psychophisical indoctrination…
a dark threat insulting my rights again.
– Carried away, eyes filled with pain,
what have I done for having so much to pay?
after 21 years of corrosive disdain…
more restrictions, why?
More restrictions. Why?
– Carried away, eyes filled with pain,
stuck in the grip of your military chain,
death from the hands of another system's prey…
..It's a calculated doom.