Cripple Bastards / Senseless Apocalypse 7″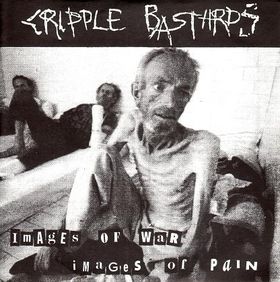 LINE-UP:

Giulio the Bastard – vocals
Alberto the Crippler – guitar
Michele Hoffman – drums

Label: View Beyond Records

recorded in 1994
TRACKLIST
1. Images Of War / Images Of Pain
2. My Mind Invades
3. Blue Penguins
4. Italia Di Merda
5. Peasants
6. Selgf-justice Punks
7. 1974
8. Something Wrong
9. Walk Away
10. Ragman
Japancore 'zine reviewed the CB's side of this as a scary mix of early WRETCHED and FEAR OF GOD, probably no example could match better. Back to the home recordings at Michele's practice-room (with a couple new skills), CB reach a step forward in filthiness and negativity. The songs here are ways faster and grind-oriented than the previous split 7″ with Social Genocide and can be seen as a follow-up to the split with Patareni/"Life's built on thoughts" sessions rather than to the CB's punky edge.
This split includes the very first versions of "Italia di merda", "1974", "Images of war / Images of pain", songs that gradually became some of the most popular anthems among CB fans. The first time we played in Czech Republic (1998) we found out there were hundreds kids begging for "Italia di merda"! Front cover photo shows a man reduced to hunger and degradation in the lager-camp of Silo, where Serb citizens were confined.
> released in 1994, no cat. # mentioned, 1500 (or more?) copies made on different pressings, no colored wax – first 300 had a slightly worse sound and were including a yellow flyer giving skills on how to set the stereo equalizer for a better listening. Further represses were made out of a different master and sounded a bit more pumped on the bass frequencie. The ep was re-printed at least 3 times.
> each pressing had an insert/lyric-sheet enclosed

when i feel myself particularly depressed,
frustrated or mortified,
i use to take a tipped knife and shred my skin furiously,
till i see the floor around me
completely soaked by blood…
doing this, i often weep and laugh desperately.
i call this practice "repertory".



LYRICS
commentary on a winter day in Vukovar. 1992
– children playing under the snow –
the bomb has completed its flight
and now it's exploding among innocent children…
– faces twisted with fear –
there's no time to realize what has brought this immense pain,
– red on white,the metaphor is clear … –
images of war – images of pain


finding myself the connection,
the perfect key to interpret your lies
my mind invades
inventing an own private philosophy,
my brain selects nourishing thoughts
my mind invades
a rabid dog breaks his chains – my mind invades
a rabid dog breaks his chains – my mind invades


in the streets – in my house. everywhere… why?
die, fuckin' cops!! die, fuckin' cops!!


anni di tristezza – cazzate in televisione
divertimenti imposti… discoteca e stadio
il tuo misero sfogo nella totale sottomissione.
ITALIA DI MERDA
l'italia del perbenismo,l'italia dei leccaculo
é la patria dei coglioni che non usano il cervello
han bisogno di qualcuno che li anneghi nello schifo.
ITALIA DI MERDA
muoio nel mio disgusto, sommerso nel vostro marciume.
soffoco in una strada affollata di apatia,
intossicato dalla merda che ingoiate tutti i giorni.
ITALIA DI MERDA


95% …. (the sum is growing)
la mia generazione annega nel falso benessere
costruito su un sistema di consenso;
alla gente come me non é concessa la parola.
ci sara sempre qualcuno che pensera per noi,
agira per noi, campera su di noi.
la mia generazione – ragazzi morti.
la mia generazione – morti per vivere bene.
commento:
"la mia generazione é come un albero dalle radici morte.
viviamo la nostra sconfitta passivamente,senza lacrime.
lontani dal rischio di seguire le nostre convinzioni;
essere noi stessi? no. non ce l'ha mai chiesto nessuno.
sarebbe troppo scomodo , troppo doloroso."


variations in my headache. fists in what they call "soul".
something wrong with those shitheads.


walk away… to a suffered world.
(vocalized hatred)
walk away… do you think to be sincere?
do you feel it?
(vocalized hatred)
after days made up of months, you walked away from me.
after days made up of months, you walked away from me.
after days made up of months, you walked away from me.


Commentary:
Born in your shit, I can't enjoy the colors of grace and beauty,
I can't feel anything but this uniform-unfailing sense of nausea…
"Her eyes… so lovely,
that you're askin' yourself how can tears…………………………..
Her body… so perfect,
that you're askin' yourself how can shit……………………………"
"Her brain… so empty,
that I'm askin' myself how can thoughts……………………………
Her life… so senseless,
that I'm askin' myself how boring should be…………………….."
The colors of grace and beauty won't fit in my picture;
diping my brush in your shit I'll paint a life of kicks,
intimidations, self-relegation.
I'm a ragman and I love my putrid clothes
weared out by thousands generations.
You're something worst… corrupted perfection;
the static divinity of perfumed trash.