Cripple Bastards / Skruigners / Woptime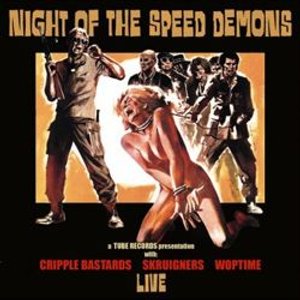 LINE-UP:

Giulio the Bastard – vocals
Schintu the Wretched – bass
Der Kommissar – guitar
Al Mazzotti – drums

Label: Tube Records

OVERVIEW
Another CB live release along with the bonus tracks on the Obscene's re-issue of "Desperately insensitive" and the previous 3 way split with CHC and TFD
. This is with no doubt the best-sounding one, since it's been professionally recorded and mixed in a studio with a higher budget and good equipment. CB's set is a fast as fuck selection of the most known anthems from the past and the most successful tunes out of "Desperately insensitive". As described in the introductive quote, this is the final document of a huge HC event organized by Italy's Punk label Tube Records. The bands, despite the different musical approach, have previously played together many times and they're above all linked by mutual friendship. This record was mainly thought for the Italian market exclusively distributed in Italy through record stores, so it's pretty hard to find it in other countries. The best feature of this CD is probably the enhanced video track made by Bruno Blasi (director of the anthological CB's DVD) showing the bands in action on stage and some interesting backstage shots…
> Released in early 2006, T.R. 028, 1000 copies made
> Comes with a 8 page booklet
> Recorded live at "Babylonia" (Ponderano / Biella / Italy) 21/05/2005 by Andrea "Grunt" Giudici Gianluca Amendolara. Mixed by Andrea "Grunt" Giudici at Avatara Studio, Milano under supervision of Giulio the Bastard
> Mastered by Alberto Cutolo at Massive Arts, Milano
> Credits:enhanced video track composed and edited by Bruno Blasi | Artwork / layout by Lorenzo Arioni
WARNING!
"The most hated italian assholes teamed up together for the first time ever"
May 21st 2005. On Babylonia's bloody stage in Biella/Italy, 3 different faces of what today we still call "hardcore" confront each other. Woptime's solid street-justice NYC style, Skruigners' sincerity and strength in an italian HC vein, the iperviolent Hate/Grind fury of a neverlasting outfit, the Cripple Bastards. Indestructible, fearless against superficiality, gossips and the weak mediocrity of those who judge an expression without trying to understand deeper where all this rage, carelessness and will to fight alone against all comes from. This CD is what's left from that night… the night of the speed demons. A missing link to what italian HC was over 20 years ago, a worthless document to be quickly put aside, just another commercial step or simply… an unremovable trace of energy from people that still have something to say. Find your own key to watch through…
GTB's UNRELEASED TEXT FEATURED IN THE INNER CB PAGES OF THE BOOKLET:
..e attraverso i segni che Le lascio
ti rimarco il mio distacco.
Lei.. o rivale stanco, ormai piegato…
Lei… fulcro sfiancato ingenuo
nostro medesimo filo conduttore di rivalsa
Come un flipper impazzito
da sbattere in tilt all'infinito
per ogni ancata che Le diamo
un telegrafo che compone
il decalogo della sconfitta che ti impongo.
..piange e si distacca dalla dolcezza che ti ha concesso
sotto la valanga dell'astio rivale Mio incarnato a sesso.
E attraverso i segni che Le lascio ti comunico
quanto tempo ho speso
a studiare il silenzio
che sul mediocre impone
il più insostenibile peso.
TRACKLIST:
1. Respect Or Death
2. Misantropo A Senso Unico
3. When Immunities Fall
4. Get Out And Bite Them
5. Authority? / Asti Punx
6. Necrospore
7. Il Sentimento Non È Amore
8. I Hate Her
9. S.L.U.T.S.
10. 1974
11. Cardboard
12. Being Ripped Off
13. Prospettive Limitate
14. Odio A Prima Vista
15. A Dispetto Della Discrezione
16. Bomb ABC No Rio
17. Italia Di Merda
18. I Wonder Who The Real Cannibals Are
19. Il Tuo Amico Morto