Cripple Bastards / Suppression LP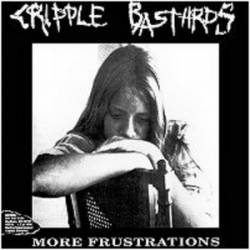 release date:
Summer 1997
share:
LINE-UP:

Giulio the Bastard – vocals
Alberto the Crippler – guitar
Eduardo 'o' Brazil – bass
Michele Hoffman – drums

Label: Bovine Records

> Recorded in 1995 in Alpignano (Torino), "Acqualuce Studios", by Marco Milanesio & CB
> Released in 1997, BO36, 2000 copies. no re-presses, no ltd editions on colored wax
> 1 insert x band – the CB's one including all lyrics/commentaries
TRACKLIST:
1. My Serenity / Dealing With A Pressing Problem
2. Walk Away
3. Italia Di Merda
4. Living Monuments
5. What I Thought
6. Imposed Mortification
7. Rating
8. War Spoils
9. Bonds Of Enmity
10. September, 18th 1993
11. Intransigent Simpathy
12. More Frustations
13. Vital Dreams
14. Padroni
15. Grimcorpses
16. Intelligence Means…
17. Danas Je Dan Za Lijencine
18. More Restrictions. Why?
19. My Mind Invades
20. Images Of War / Images Of Pain
21. Prejudices & Walls
22. Irenic
23. Paranoiac
the stuff featured on this record is simply different remixes of songs selected from the "Your lies in check" session w/ some unreleased intros added. Why re-issuing music we had already put on other records? "Your lies in check" was out on 2 european labels. In order to get a bigger US distribution, we decided to make a specific release mainly pointed to the US scene. This kinda policy was partially inspired by Hadzo, the guitarist of Patareni – which was very close to GTB at those times. The remix on this album sounds ways rawer and grind-oriented than the excessively clean edge of "Your lies..". After putting together the master, we weren't satisfied at all, so we passed everything from DAT to a normal audiocassette, than from one tape to another re-equalizing it according to our taste, then back to DAT… This demential process turned the sound into the level of filthiness we wanted to reach. The CB / Suppression Split sold at the speed of light, both bands were highly appreciated, Bovine was one of the best extreme HC labels around in the american scene… today we certainly regret we didn't use completely unreleased tunes on this, but anyway – it stands as a classic in the '90s Grindcore panorama.
NOTE:
If you wish to read the lyrics of these songs, you can find them all checking the "Your lies in check"'s page.The following is simply a list of commentaries we had added in the Split LP insert in order to explain in detail what each track was about.