CRIPPLE BASTARDS "Misantropo a senso unico" redux edition, pre-orders start now!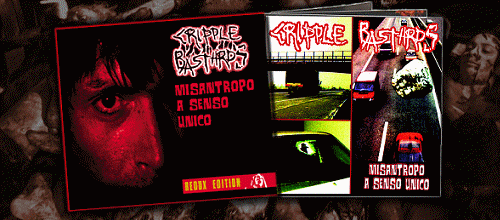 We are stoked to announce that pre-orders for "Misantropo a senso unico" redux edition on digipack CD on FOAD Records are finally open!
Here's a Soundcloud preview of "Conclusione":

Here's the label's introduction about this longly awaited re-issue:
"Deluxe re-issue of Italy's most classic Grindcore album ever. This has been in the works for 3 years due to enormous difficulties in transfering the original reels that were on a very rare (and unplayable) format. Restored, remixed and remastered with feverish care at Toxic Basement Studio under constant supervision of the band, to keep the original rawness and rage completely intact and utterly reinforced. And there's even more.. on those reels we found a 4 minute unreleased song, "Separati dal contagio", which has been entrusted to Sweden's prog/horror Rock masters ANIMA MORTE for a majestic Goblin meets Frizzi ending result, added on this CD as exclusive bonus. Originally released in 2000, "Misantropo a senso unico" is an incredible outburst of hyperfast hate-fueled Grindcore rooted in the most furious and violent 80s Italian Hardcore. 16 songs of manic speed scream-out-lungs hatred at its most nihilistic form, the band's absolute manifesto. UK's Terrorizer Mag quoted it as nr. 6th of the most essential Grindcore albums of all times. S.O.D. / Brutal Truth / Hemlock / Anthrax / Nuclear Assault bassist Dan Lilker about this album: "exquisitely insane hardcore grind that reminds me of why I got into all this shit back in the late Eighties". Housed in an elegant digipack with 20 page booklet including all lyrics, liner notes and English translations, wrapped in an external slipcase. The definitive untoppable re-edition of this album, it can't sound and look better than this!"
The official release party for this CD is September 14th 2013 at Italy's RockHard Festival @ "Live Club", Trezzo Sull'Adda, Milano.
For this event CB will do a special set centered on the album's most classic songs.